Đurić: Belgrade fulfills its obligations as opposed to Pristina
August 18, 2016.
Beograd follows through on its obligations deriving from the Brussels dialogue, even when it is not particularly attractive or popular for us in terms of media, while this is not the case with Pristina, said the Director of the Office for Kosovo and Metohija Marko Đurić.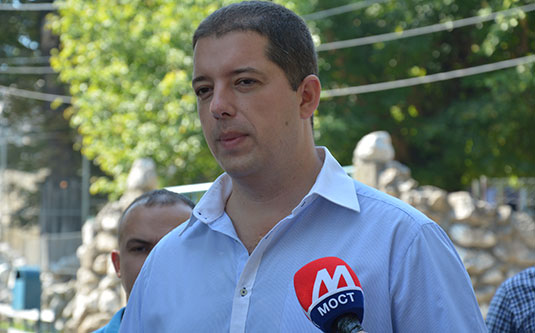 "If you look at our pile of obligations that we implemented so far and those pending, and I admit that a little bit remains yet to be implemented, and then if you look at the pile of obligations that Priština needed to implement, you will see that theirs is almost intact. This illustrates enough which party in the dialoge acts towards fulfilling its obligations to a large extent, "said Đurić told reporters in Belgrade.
Asked whether Priština is more to blame for the "lack of significant progress" when it comes to implementation of the Brussels agreement, as was assessed by the UN Secretary General, Đurić said that "very often our extended hand was left hanging in the air, and this is now reflected in the implementation of the agreed".
"I am truly sorry that this is the case, because as long as progress keeps legging behind, the economic situation in Kosovo and Metohija would remain as it is today," Đurić said.
Underlining the soaring unemployment in Kosovo and Metohija today, which according to data is currently at about 60 percent, Djuric said that such state of affairs would be difficult to amend as long as the issue of property and communication between our institutions remain unresolved.
"They are not focused on that, they don't want to even discuss property, they just flee from it. And then I ask how they intend to attract any serious investors to a country whose legal status remians unresolved," said Đurić .
He expressedf regret that after the meeting in Brussels, members of the negotiating teams fail to send out a positive message.
"Because what's the point in what we do, make agreements, produce papers, if every time after the meeting a message is sent out that we are even more fractious then before and that there is hostility among those making decisions," said Đurić.
He said he is trying to stear clear from taking part in such things, adding that it would be much better and more responsible if those who lead Pristina's negotiating team would refrain from point their finger at the other side every time, and instead dig into implementing their part of obligations.
"This is what we heard from (US Vice President Joe) Biden, and what they have heard from us, and from the countries supporting Serbia in the UN Security Council," Đurić said.
He stressed that the issue of Kosovo and Metohija, has been the reason why the " international law and the UN Charter have been trampled" over the past couple of years.
"Trampled are the principles underlying the UN, violated was the mandate and role of the UN Mission in Kosovo and Metohija, in whose presence secession was illegally declared. I believe that in fighting to preserve Kosovo and Metohija within the UN framwork, we fight for the position of all countries in the world whose territorial integrity and sovereignty are threatened," concluded Đurić.