Đurić: Serbia's future tied to the fate of Kosovo and Metohija
September 21, 2016.
Director of the Office for Kosovo and Metohija Marko Đurić said today in Gračanica that without Kosovo and Metohija, Serbia and the Serbian people would be a people without a country and without a past, and therefore without a future.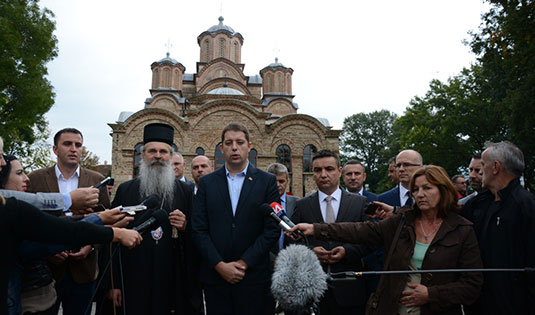 Standing in the portal of the monastery of Gračanica, Đurić told the reporters that Serbia's future is closely linked to the fate of Kosovo and Metohija, and that the fight will be continued, together with the people, for the survival of Serbs in these difficult times.
Đurić said that the upcoming months would surely be difficult and filled with efforts to maintain stability in the relations with Pristina.
"If those relations cannot be brought to a higher level, which would certainly suit our interests, then throughout this period we will continue to work with the Diocese of Raska and Prizren of the Serbian Orthodox Church, as well as with our political representatives in local institutions, to preserve the minimum conditions for the persistence of our people, and wherever that is possible, to improve their situation," he said.
Đurić and his associates attended the Liturgy on the occasion of the Orthodox feast of the birth of the Holy Mother - Nativity of the Mother of God, and the celebration of the day of the Municipality of Gračanica.
"For more than a decade, the Municipality of Gračanica has been the oasis of Serbian existence in Kosovo and Metohija, and therefore the people who persist here represent one of the pillars of Serbian existence in Kosovo and Metohija. Today's feast is a good opportunity to send a message that Serbia without Kosovo and Metohija becomes void of meaning, "said Đurić.
Đurić said that in Kosovo and Metohija there is no space for, as he said, an inch of discord among the Serbs, and that the quality of everyone's work will be measured and everyone would be held accountable.
"I am against any kind of sweeping under the carpet, and today's feast might be a good opportunity to once again urge all Serbian representative to work together," said Đurić.