Đurić: Thanks to people, thwarted attempt to arrest me
September 22, 2016.
The Director of the Office for Kosovo and Metohija of the Government of Serbia, Marko Đurić, stated that last night in Gračanica the Kosovo Police attempted to harshly and illegally arrest him and deport him from Kosovo.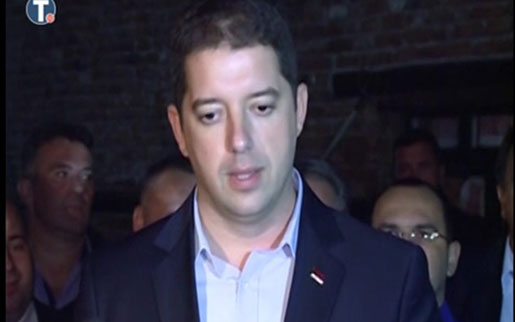 Last night in Gračanica, the Kosovo Police halted the vehicle carrying Marko Đurić for a half an hour, demanding that he left Kosovo and Metohija, only to soon after declare that they would facilitate his visit in line with the agenda, said the Tanjug's reporter present on the spot.
Đurić stated that he came to Gračanica to be with his people and that, owing to the spontaneous gathering and the unity among the Serbian people, this shameful attempt of the Kosovo Police was thwarted.
"By being united, the citizens and us showed that the Kosovo Police – otherwise typically absent when it comes to protecting the Serbian people and Serbian shrines – cannot act as they will", declared Đurić.
He stressed that no one would ever succeed in preventing Serbs in their readiness to endure and prevail in Kosovo and Metohija.
"I believe that this shameful attempt of the Kosovo Police has given a bad name to most of the citizens of Albanian and all nationalities in Kosovo and Metohija", underscored Đurić.
He said that the alleged rationale for this attempted arrest and deporting him from Kosovo was that "violation of the agenda", which was not true.
Đurić concluded that he did not know why any of that happened and what is the background, but he underlined that the whole affair was "poles apart from common sense".
According to the Tanjug's reporter present on the spot, the police officers, when they halted Đurić's vehicle, said that they were ordered to escort him to the CCP Merdare and threatened to arrest him should he refuse to do as requested.
Đurić's visit to Kosovo and Metohija had been regularly announced to last by Thursday morning, the next day. The procedure was fully in line with the arrangements reached earlier between Belgrade and Priština.
The large number of citizens who gathered at the intersection where the vehicle carrying Đurić was halted, occasionally cheered "Serbia, Serbia".
Some half an hour later, the police officers told Đurić and the people in his entourage that they would be allowed to pass and proceed with their visit, which the citizens welcomed with the applause and shouts "Marko, a true Serb".
For the first time, after the vehicle has been stopped, Đurić got out of the vehicle and waved to the citizens.
Provinical Deputy Prime Minister of the, Branimir Stojanovic, and mayor of Gračanica Vladeta Kostić, were also present on the spot.