Press Statement of Marko Đurić, Director of the Office for Kosovo and Metohija
September 23, 2016.
I am shocked by the publicly declared intent of the Provisional Institutions of Self-Government in Priština to prevent me from visiting the Patriarchate of Peć, where I intended to hand over a supply of much needed basic livelihood assistance to our nuns who live in very harsh conditions.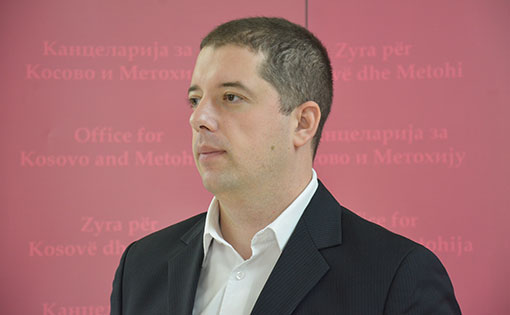 This was not a mere senseless, childish act of spitefulness, of a part of the Albanian political establishment in Priština, but a most shameful attack on the freedom of religion of Serbs in Kosovo and Metohija.
I expect that the European Union, facilitator of the Dialogue between Belgrade-Priština, react in the most resolute manner to this most recent in a series of attempts to divest the Dialogue of all meaning and downgrade the process of normalizing relations.
A lasting and sustainable solution for Priština's increasing disregard towards the arrangements made on the freedom of movement and on the visits of officials, whose implementation constitutes the minimum precondition for any normalization to take place, will have to be found in Brussels.
No one will be able to prevent the Government of Serbia from standing by its people and clergy in Kosovo and Metohija, and to actively engage in establishing peace in our southern province, regardless of how loud or unscrupulousness might be those who do not view peace as their interest.
Tomorrow, I will not be in the Patriarchate of Peć, not because I care much for these attempts to raise a ban, but because I feel a responsibility towards our people in Kosovo and Metohija, and do not want to provide any excuse to those who wish to harm them. I will by all means visit our compatriots in the southern province after I come back from Brussels, disregarding any anti-civilized intentions to prevent freedom of movement.
So far, Priština has not been able to prevent me from being with my fellow countrymen in Kosovo and Metohija by resorting to bans or police squads. Therefore, the only losing party in this senseless act, are the citizens in our southern province, condemned by a handful of extremists in Priština to live in an environment of constant tension and political instability.
DIRECTOR
Marko Đurić