Vučić: Serbia constantly facing political conditions related to Kosovo and Metohija
October 05, 2016.
Prime Minister Aleksandar Vučić stated today that in the coming period, a decision on the implementation of the agreement on telecommunications between Belgrade and Priština will be made, and that this is certainly a difficult decision for Serbia, noting he would not say the country was facing an ultimatum.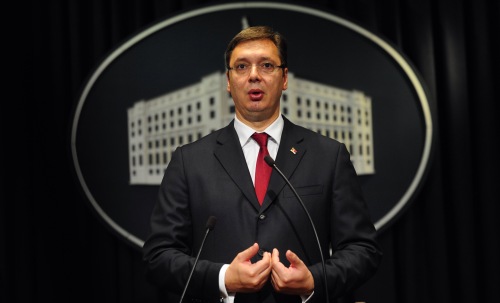 "I would not say this is an ultimatum, this is about the discussions we had in Brussels", Vučić said, commenting on a statement by the head of the government Office for Kosovo and Metohija Marko Djurić, who said earlier in the day Serbia was facing an ultimatum.
He explained that this is not a literal ultimatum, but Serbia is constantly faced with political conditions that are always related to Kosovo and Metohija, while there are no such conditions for other candidates, and that in such circumstances, we must be aware that "they will not open the negotiation chapters for us if we say no", Vučić said.
He reminded that the agreement on telecommunications was signed in august of last year, but different interpretations exist, and the issue of property is one of them.
"It is very difficult to make a positive decision on this, but it is difficult to make a negative one too, because you know what kind of political consequences you are facing. We will think about our decision, we will try to change something and we will make the best decision in the interest of Serbia", Vučić said.
In this regard, he commented that he was not pleased with the public statement by Marko Djurić, the Director of the Office for Kosovo and Metohija, that we are facing an ultimatum.
"Although he praised me as the Prime Minister, he had put me in the most difficult situation, because if we accept that it will be like I did something against my people, and if we don't accept, we will be directly responsible for the possibly difficult political situation", Vučić said.
Vučić said a paper was put before him on which we have to decide and there is no negotiating on it, and the decision will be made during the next few days.
"I will see what I will suggest to our government and the negotiating team. These are very difficult issues and the consequences are serious in every respect", Vučić said.
He noted that Serbia is always faced with more difficult standards than others are.
"They can tell us we are an unworthy bunch and nothing, and to send their money to various non-government organizations to harass us because of three barracks. Is this justice, no, we have to get used to that and to fight for a better status of Serbia and our people and do everything we can to not overcharge the situation", Vučić said, adding that nothing is easy relating to Kosovo and Metohija.
Vučić explained that the agreement on telecommunications was signed last year in Brussels, and that the Action plan is now being discussed, but the two sides are not agreeing on Points 9 and 11, which are not accepted by Priština and EU, and they are related to property.
"We fear that on the basis of that agreement they will interpret other things regarding property, and they will say that Gazivode and Trepča belong to Priština, and it has not crossed our mind to give it away at "hello"", Vučić said.
Vučić said that the Belgrade team held talks in Brussels last week with Priština and that on Thursday, one sentence was to be changed in the action plan for Belgrade to accept it, but on Friday it was said this is no longer valid.