Serbian ministers freeze their engagement in PISG Goverment over Trepča
October 09, 2016.
Serbian members of the PISG government today froze their participation in the government, the inter-ministerial committees and other bodies because of the controversial Law on Trepca.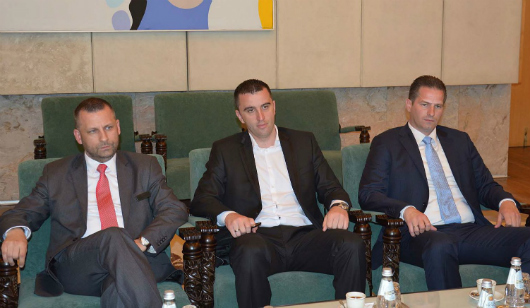 "Not wanting to make the situation worse than it is, we now only want to formalize the decision that others in Pristina made for us. We forthwith freeze our participation in the work of the provincial government, inter-ministerial committees and other bodies where our presence would be only formal and not substantive, and where our views would not be taken into account nor would we be able to influence decision-making process, " the ministers stated.
The press release signed by Branimir Stojanović, the Deputy Prime Minister, Ljubomir Marić Provincial Minister of Local Government Administration, and Dalibor Jevtić, Minister for Communities and Returns, states that they refuse to agree to the ruling Albanian party using their (Serbian) presence to stage sham democracy.
The ministers added that the engagement and the work of Serbian members of the PISG government will be focused exclusively on the activities which would be conducive to the better position of the Serbian people.
"We call on the representatives of the international community to engage towards resolving this new situation, because to ignore the views of the political representatives of the Serbs in Kosovo and Metohija, is to ignores the fact that, in addition to the Albanians in Kosovo and Metohija, there are also Serbs living there, but who are still treated as the second-class citizens," the press release reads.
Serbian members in PISG government have stated that the Government which they entered on the basis of the coalition agreement, signed by the Serbian List with, at the time, the biggest Albanian political parties, has now refused to grant them any share in the decision-making process on pivotal issues for the position Serbian poeple in Kosovo and Metohija.
"By denying us the right to participate in looking for a just and sensible solution for the fate of Trepca Combine, and in many other important decisions, the Coalition Agreement has been brutally trampled, and it has been made clear to the Serbian list that it is not seen as a part of the ruling coalition "reads the press release.
Despite all the appeals that the Serbian people and its political representatives should not be excluded from the political decision-making process, especially when it comes to matters of special importance for the Serbian people, Serbian representatives in the government have been placed in a position where they cannot effectively ensure equal rights and security to their people.
Earlier today, the Serbian deputies did the same - they froze they work in parliament.