Launching the railway line Belgrade-Kosovska Mitrovica
January 14, 2017. Source: Tanjug
The first train that will go directly from Belgrade to Kosovska Mitrovica for the first time after 18 years was re-launched today from the Main railway station in Belgrade, and sent off by the Director of the Office for Kosovo and Metohija, Marko Djurić.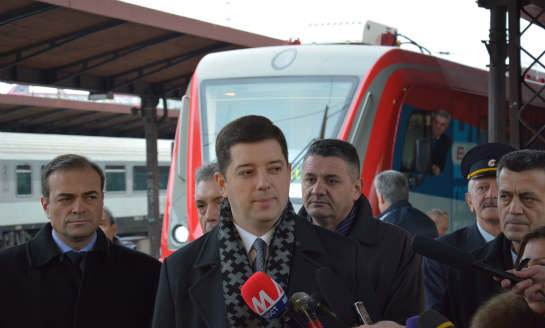 Фоto: Office for Kosovo and Metohija
Djurić told reporters that the train cannot be a provocation for Priština, as it is decorated with world's cultural heritage from UNESCO's list.
The new Russian diesel engine train is decorated with motives of Serbia's cultural and spiritual heritage in Kosovo and Metohija.
"This is an extension of the existing Kraljevo-Kosovska Mitrovica line, which has existed for 10 years and is nothing new in the political sense", Djurić stressed.
He said that any stopping of the train upon entering Kosovo and Metohija would constitute a violation of human rights and freedom of movement of citizens, as requested by the Kosovo Dialogue Minister, Edita Tahiri.
Djurić said he sees no problems here because "dozens of buses and other Albanian means of transportation from Kosovo and Metohija pass peacefully through Serbia Proper and never have any problems".
Asked whether Serbia will apply reciprocity if the train is not allowed to enter Kosovo, Djurić said all reasonable people should condemn any thought of violating basic human rights, such as freedom of movement.
"That's all I can say", Djurić said.
According to him, there are those who always try to find something bad in everything, but the train is a mean of transportation going from point A to point B and should connect people and bring everyone closer, "not divide or separate", Djurić added.
As he stated, this is a kind of mobile exhibition, work of the world-renowned author Andrej Vasiljević.
Djurić travelled by train with the reporters up until Topčider.
This was a promotional ride, and the test line from Belgrade to Kosovska Mitrovica will be established from January 20, until February 26, after which it will be decided whether it will become a regular line.
The train will operate on the following route: Belgrade-Mladenovac-Lapovo-Kragujevac-Kraljevo-Raška-Kosovska Mitrovica.
"To everyone celebrating, I wish you a Happy New Year. I wish you a beautiful beginning of the new Orthodox year. For the first time this year, the most modern train composition is travelling from Belgrade to Kosovska Mitrovica, at the request of many citizens and students who wish to be better connected to Belgrade, Kragujevac and other places in Šumadija and Serbia Proper", Djurić said, adding that this is the primary role of the train.
He also thanked the Ministry of Construction, Transport and Infrastructure for enabling this idea to be realized.
Djurić stressed that this is a modern train and the first one in Serbia fully equipped with internet access.
"I expect students from the University of Priština in Kosovska Mitrovica will be among the first beneficiaries of the train", Djurić stressed.
He said that in the future period, he will have the pleasure of riding it himself.
Djurić said that the total cost for the train will be released and that the current estimate for the trial period will amount to a little less than EUR 18.000, not including tickets the passengers will pay.
"This line can easily become economically viable", he said.
According to him, the return ticket from Belgrade to Kosovska Mitrovica will be about RSD 1.600, while the average round-trip bus fare is about RSD 2.800.
Asked to comment on the inscription on the train "Kosovo je srbsko", Djurić said the inscription is written in Slovak language.
"These are strange times when even Ivo Andrić is called a fascist, and it would not surprise me if UNESCO cultural heritage is declared unseemly. I think it's nice to send a message through a mobile exhibition that we care about our cultural and spiritual heritage and that this is something that needs to bring people closer to culture", Djurić stressed.
Acting General Director of Srbija voz, Jugoslav Jović, said that at the request of the Office for Kosovo and Metohija, they are introducing a direct train to Kosovska Mitrovica.
"According to the current estimate, with the participation of the Municipality of Kosovska Mitrovica and ticket sales, this train will be cost effective", Jović said.
The inside of the train is decorated with frescos from the four monasteries in Kosovo and Metohija that have been on the UNESCO world heritage list since 2004, and since 2006 are on the List of World Heritage in danger: Monasteries of Gračanica, Visoki Dečani, Bogorodica Ljeviška and the Patriarchy of Peć.
The outside of the train is decorated with Serbia's flag, with names of Serbian churches, monasteries and medieval cities in Kosovo and Metohija, and with the inscription "Kosovo is Serbia" in 21 languages, including Albanian.
The return of the train from Kosovska Mitrovica is scheduled for tomorrow at 10:40.
During the trial period, the train will travel twice a week, departing from Kosovska Mitrovica of Friday at 10:45, and from Belgrade on Sunday at 08:30.