Nikolić: No talks about independence, nor can there ever be
January 25, 2017.
There are no talks about Kosovo's independence, nor can there ever be, but if they want to talk about peace and better cohabitation, we are here and willing to do so, the President of Serbia, Tomislav Nikolić, declared last night.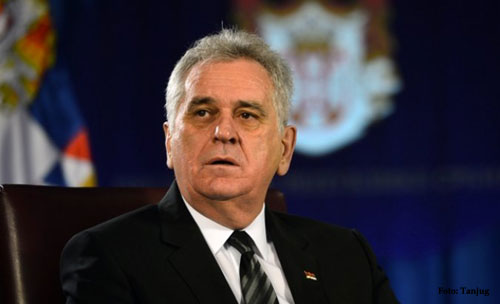 At the beginning of the meeting with EU High Representative for Foreign Affairs and Security Policy, Federica Mogherini, Nikolić told reporters that the dialogue makes sense, despite contrary opinions.
"The dialogue always makes sense. It made sense before 2012, but even more so after 2012, because it helped alleviate tensions", Nikolić stated.
However, if all actions by the provincial side are aimed at reaching independence, then it would not be a dialogue, but rather an enforcement of an opinion and Serbia would not accept such a thing, Nikolić stressed.
"And if they think EU can blackmail us and exert pressure, that any state in the world can force us to recognize the independence of Kosovo and Metohija, then they are sorely mistaken. And I don't think there is even one person in Serbia who could be appointed to a public function while accepting conditions of the Albanians from Kosovo and Metohija", Nikolić said.
When asked to clarify his previous statement about sending armed forces to Kosovo, Nikolić declared that it would be Serbia's duty to send armed forces if someone starts killing Serbs.
"I don't know if there is a Serb who would not go to war, should the need arise. As I have said before, those who want to wage a war, let them wage a war in their heads. But there isn't a person who wouldn't want to go to war for its country, not in Belgium, France, Germany, or in Serbia", Nikolić stated.
He also dismissed the allegations of some Albanian media which reported that Serbs in the north are arming themselves, calling them senseless.
"That is completely untrue, because it is impossible to do such a thing on the territory which is under full control of EULEX, UNMIK, KFOR and police that has Albanians within its composition. That is also impossible owning to a fact that all crossings are under complete control", Nikolić declared.
He added that he does not know how Albanians came up with this story, "unless they do not intend to seek justification for any attack on this territory".
"I would recommend that they do not threaten the peace and security anywhere in the territory of Kosovo and Metohija, and that especially pertains to the north", Nikolić asserted.