Djurić: International community must halt establishment of Kosovo Army
March 07, 2017
Serbia strongly opposes the establishment of a so-called Kosovo army in the territory of our southern province and is asking the international community to halt this, said Marko Djurić, head of the Office for Kosovo and Metohija.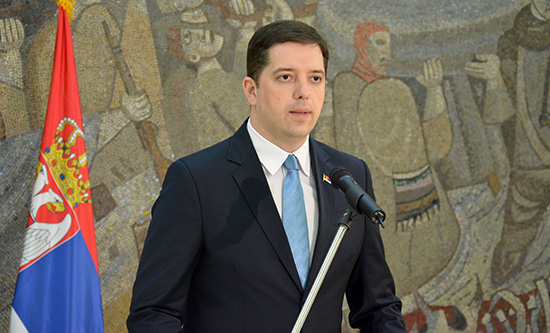 "We are asking the international community to, without delay, halt this dangerous escalation of political relations in the southern province," Djurić told reporters in Belgrade.
He added that the establishment of any kind of military or military formation in Kosovo and Metohija would represent a direct violation of the SCUN Resolution 1244 and the military-technical agreement in Kumanovo, on the basis of which war ended in the southern province in 1999.
Djurić pointed out that Serbian representatives in the institutions of the southern province will neither directly nor indirectly support such an initiative.
As he sad, by establishing the army, Priština would deal a heavy blow to efforts for interethnic reconciliation, to the improving of relations between Serbs and Albanians in the southern province and to the establishment of lasting stability.
"It is a fact that the Great Albania project is the main threat to stability in the region and the creation of some Albanian paramilitaries in Kosovo and Metohija would mean pouring oil on the fire and a threat to hard-established peace", Djurić said.
As he said, the Kosovo security forces, even with heavy artillery, could be a threat only to the unarmed Serbian people in Kosovo and Metohija, which Serbia will never allow.
He recalled that the Serbian people made it clear to everyone that they are against the establishment of an Albanian army in Kosovo and Metohija and that the unilateral establishment of such a formation would permanently divert for the dialogue process and all attempts to improve relations between Serbs and Albanians.
"It is not up to the provinces to establish armies, and neither is it up to our southern province that has seen so much suffering in the last 17 years since the war", Djurić said.
He added that among Albanian politicians there are many of those who do not understand "their place", and they should once again listen to and better understand the Serbian proverb – "a toad queuing where horses are shoed".
The Provincial President Hasim Taci presented earlier in the day to the Kosovo Assembly President Kadri Veseli the Draft law on transforming the Kosovo Security Force into a Kosovo army.
The Draft law does not apply to constitutional amendments, reports koha.net portal, but changes the jurisdiction of the Kosovo Security Forces.