Vučić: You cannot threaten the survival of a nation because of an arrest warrant, let's continue the dialogue
09 April 2017. Source: Tanjug
Serbian Prime Minister Aleksandar Vučić stated today that no investigation, indictment or arrest warrant can be the reason to threaten a nation with survival, such as threats made by the Ramush Haradinaj family, and urged Kosovo Albanians to continue the Brussels dialogue in the interest of lowering tensions and solving problems.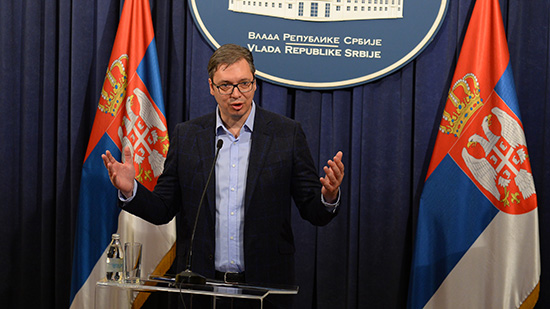 "One arrest warrant, one investigation, one indictment for the most serious crimes cannot be a good enough reason for anyone to threaten the survival of a whole nation", Vučić said at a press conference regarding threats made by Haradinaj's brother that no Serbs will remain in Kosovo if Ramush is extradited to Serbia.
"This is inadmissible. The state of Serbia cannot understand this, nor can any other country in the world, and these threats deserve the biggest and harshest condemnation", Vučić said.
The Prime Minister suggested to the Albanian side to continue the dialogue in Brussels or anywhere else as soon as possible and regardless of potential elections.
According to him, it is important to lower tensions, and not provoke new tensions, scare someone with harsh words, expel people from their homes, but it is important to avoid incidents.
"This is a proposal for people in Brussels and Priština. It would be easier to answer to insults and threats, but it is more important to do something to stabilize the situation, preserve peace and talk about key issues", Vučić stressed at a press conference after meeting with children from Kosovo and Metohija.