Đurić: Belgrade-Priština dialogue is not an irreversible one
April 20, 2017, Source: Tanjug
The process of the dialogue of Belgrade and Priština is not an irreversible one, and by no means would Belgrade deviate from its intention to partake in the process as a constructive factor who contributes to the building up of regional stability, declared today the Director of the Office for Kosovo and Metohija.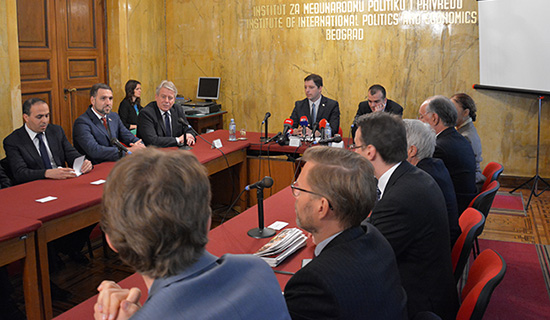 However, this process is only going to be a meaningful one if both sides are committed in good faith to resolve contentious matters by dialogue and peaceful means, underlined Đurić during the Ambassadors' Forum, held at the Institute for International Politics and Economy, where he talked about the state of affairs in the Belgrade-Priština dialogue.
Đurić said that, over the recent weeks and months, we have witnessed open threats of violence exerted by extremist groups in Kosovo and Metohija, the increasingly frequent organized attacks against people of Serbian nationality, and even the revived ambition to construct a Fascist project of Greater Albania.
"Presently, the dialogue is stuck in crisis because on the Brussels' table is not what Priština had hoped for, namely, recognition of the unilaterally proclaimed independence. The one-sided blockade of dialogue by Priština is the ultimate testimony that normalization of relations and democratization of society have never been true interest of its negotiators", said Đurić.
According to him, this certainly makes no conducive atmosphere for a dialogue, but rather a reality check that reminds of the importance of dialogue and warns of what we stand to lose, should the political and other sorts of extremisms in Kosovo and Metohija be not curbed before they cause irreparable damage.
When referring to a preferred outcome of this process, he recalled that the international communication resorts to utilizing this phrase: "a comprehensive normalization of relations", whereas Priština is of the opinion that the afore mentioned phrase should imply the recognition of the unilaterally proclaimed independence of Kosovo by the Republic of Serbia – which goes beyond any realistic expectations.
"Belgrade views the process of dialogue through the prism of UN Security Council Resolution 1244, which is without prejudice to the statehood integrity of the Republic of Serbia", declared Đurić.
He added that we can discuss all aspects of promotion of the relations between the Serbian and the Albanian peoples in Kosovo and Metohija, consider the creating of conditions that pave the way for democratization of society in our Southern Province, talk about coexistence of institutions of the Republic of Serbia and those of the Provisional Institutions of Self-Government in Priština, all that in a meaningful and productive manner; yet, the status of Kosovo and Metohija is not the topic to be either explicitly or implicitly discussed within the dialogue in Brussels.