Đurić: Kosovo Army – nothing good, either for Serbs or Albanians
April 20, 2017, Source: Tanjug
Creation of an illegal armed formation in the territory of Serbia would pose a threat to the security of the entire region, declared today Director of the Office for Kosovo and Metohija, Marko Đurić.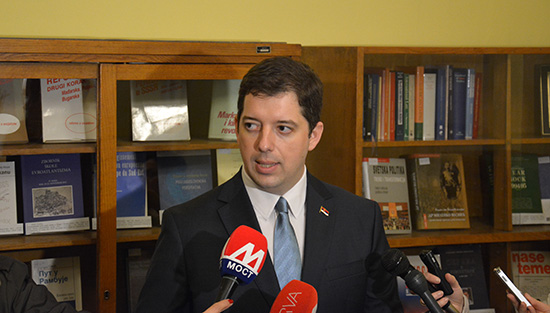 In a statement to reporters in Belgrade, Đurić said that the sole mentioning of the possibility of creating armed forces in Kosovo and Metohija goes against United Nation Security Council Resolution 1244, KFOR mandate, and the Constitution of Serbia, and represents an attempt to incite new tensions and new conflicts.
He added that such a move would not do any good for either Serbian or Albanian people, especially against the backdrop of statements about redrawing of state lines, creation of Fascistic Greater Albania in the territory of our country, with the president of Parliamentary Committee for the Security of the Provincial Assembly proclaiming that our southern province should be Serbs-free.
Đurić underscores that Serbia stands strongly against such notions, and is firmly committed to adhere to the Kumanovo Military-Technical Agreement stipulating that KFOR is to be the sole military force in the Province, in the absence of the Serbian Armed Forces which formally has the right to be present there.
"And it should remain that way", concluded Đurić.