Vučić called Serbs in Kosovo and Metohija to vote for the Serbian List
May 30, 2017
Serbian Prime Minister, Aleksandar Vučić, called citizens of Serbia in Kosovo and Metohija to vote for the Serbian List, stating it is important for the life of Serbs in Kosovo and Metohija.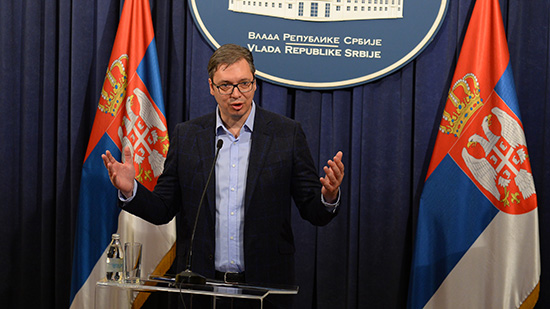 Appearing on TV Pink, Vučić said that never have more Serbian babies been born in Kosovo and Metohija, then in the last few years because, as he said, people are not leaving that territory and they feel the state with them.
Responding to criticism from the former Serbian President Boris Tadić regarding Kosovo and Metohija, Vučić said that Tadić did something that dramatically limited us – the introduction of the border at Jarinje, but it had to happen, more or less.
"The Community of Serbian Municipalities is the key part of the Brussels agreement, and was the smartest act in difficult times", Vučić said.
As he pointed out, Tadić did not like to make decisions, "he liked for days to go by, he was capable and charming, as well as others, but he did not make decisions".
"We reached a decision that all police officers will be of Serbian nationality, that Albanian boot will not set foot in northern Kosovo and Metohija…", Vučić said.
He added that German Chancellor Angela Merkel told Tadić that he deceived them.
"She does not tolerate those who lie and deceive, and some from Boris Tadić's team lied to her all the time", Vučić said.
President-elect Aleksandar Vučić said that upon becoming the head of state, he intends to raise the question of Kosovo and Metohija, although he does not intend to give it up.
"I will swear on the Constitution. I have to right to renounce Kosovo and Metohija, but we have to open that issue", Vučić said, answering the question of LDP leader, Čedomir Jovanović, whether he will as this country's president cut Gordian knots that are blurring this country's European perspective, primarily when it comes to Kosovo and Metohija.
"I will not recognize Kosovo and Metohija, that was not my policy, but I am ready to talk and accept the fact that we have a lot of myths and legends", Vučić said.