Vučić: I'm concerned about threats and hoping for an adequate reaction from the world
June 08, 2017. Source: Tanjug
The President of Serbia, Aleksandar Vučić, expressed concern and apprehension over threats from Priština, as he does not believe they are for "internal use" only and campaign oriented, and that is why he urged the EU and other international actors to assess the actions of politicians in the region in an objective and rational manner.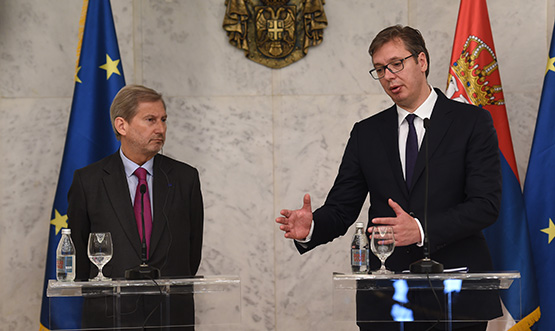 At a joint press conference after talks with EU Enlargement Commissioner, Johannes Hahn, Vučić said that although he respects him and always speaks the best about him, with gratitude towards a man who knows this part of the world, he must take notice that if we were to utter such disrespectful sentences or if we said we would solve one part of the territory by threats, as they do in Priština, we would encounter dozens of press releases with messages of judgment.
"What is worrisome is that such statements, the harshest possible, are a threat to a nation and without an adequate reaction", Vučić stressed, noting reactions would probably be fierce if such statements came from Serbia.
On the question about statements that politicians in Priština will not implement the Brussels agreement, nor that they intend to establish CSM, Hahn previously stated that the election campaign is ongoing and he does not want to go into it, but believes that citizens of the region are committed to European integration, peace and stability, the only thing that provides EU membership, and that responsible politicians must understand such aspirations and give their contribution.
However, the President of Serbia added that, as he noted, "we prefer to be on the safe side".
"It is true that people in the region wish for peace and stability, but the fact that harshest statements are being put out is worrisome, as they represent a threat to the existence of a nation and are going unpunished".
As he said, we should be aware of the fact that 22 of 27 EU countries have recognized Kosovo's independence and we must understand that, and that they have the right to say what they want, adding he does not wish to "add fuel to fire".
"I don't think it's due to the campaign and getting votes, and that is what worries me", Vučić said adding he will not offend anyone, nor use harsh words or respond to threats.
"We must try to respond calmly, to calm the situation as much as possible, not because we are weak or afraid of someone, but because that is how normal and decent people behave", Vučić said.
Vučić said our goal was economic growth, and not feeding our vanity by showing we are stronger or bigger then somebody.
The President of Serbia said several tasks lay before our country in the upcoming period – to continue its European path, and it is necessary to open an internal dialogue on constitutional changes and attitude towards Kosovo and Metohija.
"On one hand, this relationship should not be infused with a purely mythical approach, and on the other hand, we won't say we will easily give up everything that belongs to us. It should be a serious discussion based on arguments", Vučić said.
He reiterated that it is necessary to determine a goal for the future, because, as he said, only with a defined goal can we find our way to it.
When it comes to the prosperity of our region in general, Vučić said it depends on peace and stability.
"I did not wish to win political points by criticizing anyone in the region. A vital goal for us is to take care of our citizens and the security of our country", Vučić said.
The President of Serbia said we asked EU and other international factors to assess the actions of politicians in the region in an objective and rational manner, and the people in Priština to think in a different way and try to overcome what they were doing 20 years ago and contemplate on what is coming in the next 20 years.