Đurić: The time is ripe to initiate social dialogue about Kosovo and Metohija
July 25, 2017; source: Tanjug
The time is ripe to initiate a wider social dialogue about the standpoint on Kosovo and Metohija, and it is vital for Serbia to adopt an active position concerning suggestions for the solution, because "vague and incomplete solutions" are no good for us, stated Marko Đurić, Director of the Office for Kosovo and Metohija.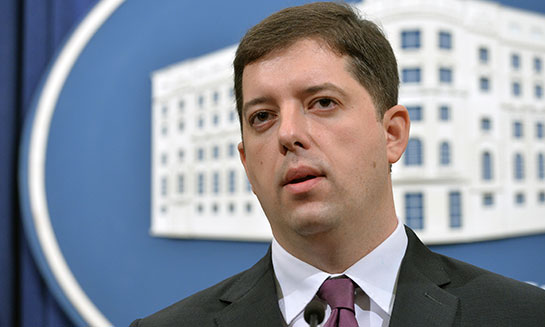 "Serbian Progressive Party firmly supports the initiative for opening an internal dialogue about Kosovo and Metohija. Vague and incomplete solutions, and being on the defensive, are no good for us. I think it is vital for us to adopt an active role, to step forward with our proposal for the solution", said Đurić in his interview on TV "Pink".
As he put it, this does not imply forgoing the state and national interests, but rather means the intention to reinforce Serbia's capacity for resolving this issue by means of talks with the Albanians and by conducting an internal dialogue.
Đurić stressed out that 1.2 million Albanians in Kosovo and Metohija are fighting for their independence and, consequently, the Serbs also ought to achieve a wider social consensus regarding their interests.
"The talk on this topic can be healing. Our starting point should be to define our interest and the other party's interest, in order to know what we may expect. I think there is a serious work ahead of us. Furthermore, there is no benefit from sweeping the issue under the carpet", Đurić pointed out.
He said that Serbia will continue to fight for the interests of 120,000 Serbs in Kosovo and Metohija and for the interests of thousands of Gorani, Bosniak and Roma people – all those who feel to be a part of the Serbian state.
In a comment on Hashim Thaci's statement that he expects the reaching of a historical agreement between Kosovo and Serbia and that reality ought to be acknowledged, Đurić said that one should not run away from agreement, but that any agreement must either satisfy both Serbian and Albanian interests or leave both "equally unsatisfied".
At parliamentary elections, Serbs in Kosovo and Metohija demonstrated whom they trust, told Đurić, and added that it would be difficult to form the Provincial Government without representatives of the Serbian List and that their inclusion will be the proper way for addressing everyday issues.
During the past four years of political balancing, as he said, Serbia managed to halt the seizing of Trepča and Brezovica, and to prevent a loss of any life, Serbian and Albanian.
"Our greatest victory is the triumph of life and survival of our people in Kosovo and Metohija. Presently, the highest birthrate in the whole country is in the Serbian-populated communities in Kosovo and Metohija. Our people is determined to survive, they activated their survival instinct, and the Serbian state will continue to provide assistance to them", declared Đurić.
He is shocked to see that President Aleksandar Vučić is attacked over his call for a wider social dialogue about Kosovo and Metohija, by people devoid of any idea in which direction to take the country.