Vučić and Tanin: Internal dialogue on Kosovo and Metohija important
August 9, 2017. Source: Tanjug
The President of Serbia, Aleksandar Vučić, met today in Belgrade with UNMIK Chief, Zahir Tanin, to discuss the current political and security situation in Kosovo and Metohija ahead of the Security Council meeting on August 16.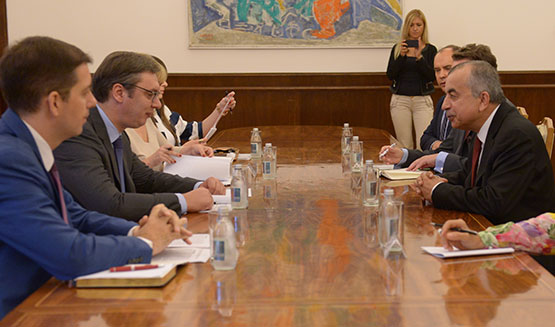 The quarterly report on UNMIK will be presented at that meeting.
The two interlocutors agreed that the presence of the UN Mission is very important for maintaining stability in Kosovo and Metohija, both through consistent implementation of the UN Resolution 1244, and by engaging in the implementation of agreements reached within the Brussels Dialogue.
The UNMIK Chief and the Special Representative of the UN Secretary General pointed to the necessity of continuing the dialogue between Belgrade and Priština.
President Vučić and Tanin also stressed the importance of conducting internal dialogue on Kosovo and Metohija, according to a press release from the public relations office of the President of the Republic.
They also considered the ways UNMIK can, within its mandate, contribute to resolving specific issues aimed at improving the daily life of Serbs, Albanians and others in Kosovo and Metohija.
During the talk between President Vučić and Tanin, it was noted that the cooperation between the Serbian state authorities and the UN Mission is good.