Đurić: Priština is halting CSM thanks to support of one part of international community
November 12, 2017
Director of the Office for Kosovo and Metohija, Mr. Marko Đurić declared today that he does not believe Priština is singlehandedly halting the establishment of the Community of Serbian Municipalities, because for every action or lack thereof, it has indirect or direct consent of one part of the international community whose support it enjoys.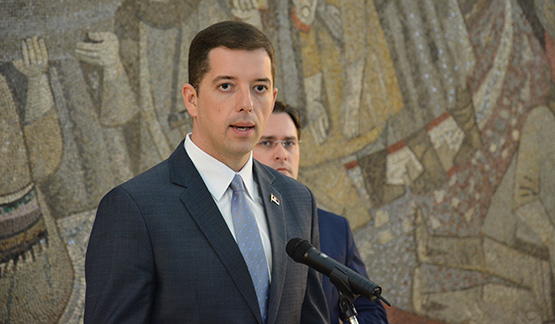 "We have been talking for six years now, we have held 236 meetings and we have thankfully helped in preserving peace but I have not seen a single move which Priština did or did not make, without having indirect or direct consent of those who support them in one part of the international community", said Đurić in his response about CSM to the reporter.
He added that this fact does not grant amnesty to Priština regarding its obligation regarding the implementation of the issues that were agreed upon.
"The stopwatch in Belgrade is still going. Today marks the 1675th day since they have not established CSM", said Đurić.
When asked about the issue of repeating local elections in Parteš, Đurić noted that Serbian List is under Priština's pressure which, as he added, can be seen through the example of election annulment in Parteš where the Serbian List candidate won in the first round of the elections.
He reminded the reporters of other situations where Serbian List was placed under pressure, stating that its representatives were interrogated, arrested, taken before the so-called informative service of Kosovo, that 16 Serbs in Leposavić were fired just because they rooted for the Serbian List and unity with the Serbian state.
"These pressures do not stop, which further shows just how much someone does not want this and how much someone is franticly afraid of Serbs being united, of coordinating their politics with Serbian state, with President Vučić, of acting homogenously as they have not in earlier historical periods, which they do now and they do it so thanks to this unity which we are forming", Đurić declared.
He underscored that Serbs could not be used as the folklore for the political establishment in Priština.
"This is not the case anymore, and it will not be the case ever again. The Serbs are united today in Kosovo and Metohija, homogenous, they act together with their Serbian state, harmonize and coordinate their politics with us and they will continue to do so. The Serbian List will continue fighting and has our full support for that", underlined Đurić.