A donor dinner for displaced persons from Kosovo and Metohija held in Podgorica
November 24, 2017. Source: Radio Gračanica
A donor night titled "Days of Mercy" was held for the first time in Podgorica, aimed at gathering assistance for the socially most vulnerable families of refugees, missing and displaced persons from Kosovo and Metohija, temporarily residing in Montenegro.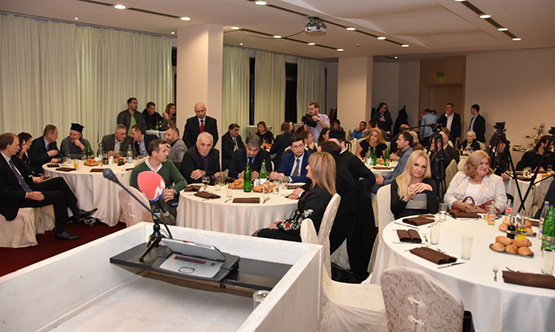 The host of the evening, Ambassador of the Republic of Serbia to Montenegro, Zoran Bingulac, thanked all the good people who answered the call, expressing his expectation for this not to be the last such humanitarian evening.
In addition to the Embassy of Serbia, the donor night was also supported by the Commission for Missing Persons of the Government of the Republic of Serbia and the Office for Kosovo and Metohija. While welcoming the attendees, Deputy Director of the Office, Željko Jović, stressed that by arriving here tonight, they erased all differences between them.
"We have gathered here from a number of different states and we all have our own positions, but today, we are all as one and are committed to helping. This is only one in a series of days when we must help those who were forgotten", Jović stressed.
The provincial Minister Dalibor Jevtić also attended the donor dinner, stating that we must respect the victims and all the suffering and pain of the families of refugees, displaced and missing persons and proclaiming this evening and all other days, days of mercy.
The humanitarian evening was held with an aim at keeping the suffering from oblivion, through the presentation of the movie "The Universe of Pain" by Ranko Djinović.