Djurić: Our job is to support economic cooperation
December 12, 2017. Source: Tanjug
The Director of the Office for Kosovo and Metohija, Marko Djurić, said today that Serbia offered cooperation to authorities in Priština, especially economic cooperation, thus expects the other side's response.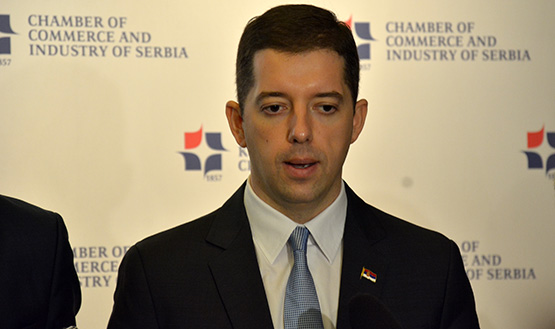 After the meeting of businessmen at the Chamber of Commerce and Industry of Serbia (CCIS), where discussions were held today within the framework of the internal dialogue on the issue of Kosovo and Metohija, in the context of economic cooperation, he said that it is important that Serbian companies invest even more in Kosovo and Metohija.
"We are working hard and our hand is always reached out, to reach an agreement, especially when it comes to the economy. I sincerely hope for our hand to be accepted, and for our hands to meet, so we can agree in the political sense, because when hands do not meet, in the symbolic sense, it is usually not good for the economy", Djurić said.
He stressed that he is happy and satisfied with the fact that companies employing hundreds of thousands of people in Serbia were represented at this gathering. He said that they have almost conceptually supported the initiative to open economic cooperation, to liberalize it, to remove some administrative obstacles.
"It is our job to support this", Djurić said, adding that this is why the initiative of President Aleksandar Vučić to liberalize the flow of goods, people and capital received such significant support and was almost the central part of the discussion of the internal dialogue, in the economic context.
What is very important and what could also be heard today is that there is a need for Serbian companies to invest more in Kosovo and Metohija and this can contribute to strengthening economic cooperation, but also the survival of our people in Kosovo and Metohija, Djurić is convinced.
"There is no successful resolution of the Serbian national issue and the strengthening of the Serbian state without a strong economy. Businessmen have expressed a strong desire and motivation to give their contribution to solving relations with Priština, aware that exchange exceeding half a billion euros annually contributes greatly to our economy", Djurić said.
He also stated that businessmen support the initiative of President Vučić to completely liberalize the movement of goods, people and capital, not only towards Kosovo and Metohija, but on the entire Balkan peninsula because, as he says, this is something that can bring benefits not only to Serbia, but also to all participants in that process.
After the gathering of businessmen from the CCIS, Djurić said that it could be concluded from the talks that it is bad that in Priština there is no institution in charge of dialogue and for solving the so-called technical issues, which are, in essence, deeply political issues.
"When it comes to economic cooperation there is no doubt that the economy is all for it. There is no doubt that the chambers are doing a fantastic job, and we, as state institutions, are ready to give additional political impulse to make this cooperation even better in the future", Djurić concluded.