Djurić and Peixoto on internal dialogue and situation in Kosovo and Metohija
December 13, 2017
The Director of the Office for Kosovo and Metohija, Marko Djurić, met today with the Ambassador of the Portuguese Republic to the Republic of Serbia, Augusto Saraiva Peixoto.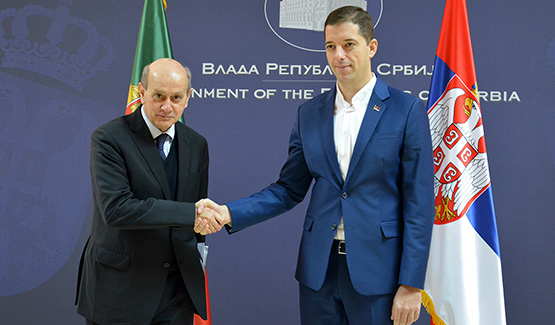 Djurić briefed the Portuguese Ambassador about the course of the internal dialogue on Kosovo and Metohija and pointed out that the solution for crucial Serbian national issue cannot be identified if all internal forces are not encompassed and without making the widest possible social consensus.
"The dialogue, initiated by the President of Serbia, should reinforce our capacity in a search for durable solution regarding the issue of Kosovo and Metohija which will consequentially contribute to the long term stabilization in the region", Djurić stated.
The Director of the Office for Kosovo and Metohija informed the Ambassador about political situation in Kosovo and Metohija and about the course of the dialogue between Belgrade and Priština, and problems that the Serbian people in the province face every day.
According to Djurić, Belgrade remains constantly committed when it comes to the continuation of the dialogue with Priština and addressing all issues in peaceful manner and by using political means.