Djurić: Serbia to seek review of privatizations in Kosovo and Metohija
December 18, 2017. Source: Tanjug
Serbia will seek and insist on a review of the privatizations carried out in Kosovo and Metohija, which are illegal, criminal, robbery-like and contrary to domestic and international legislation and regulations, the Head of the Serbian government Office for Kosovo and Metohija, Marko Djurić, said today.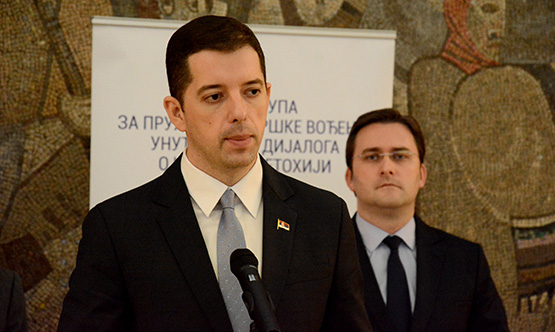 Photo: Office for Kosovo and Metohija
After the round table, within the internal dialogue, attended by representatives of economic faculties, institutes and professional associations, Djurić said that the Office for Kosovo and Metohija has made a comprehensive property database.
"We have papers for every dinar, for every screw that we as a state invested in Kosovo and Metohija for the past decades", Djurić told reporters.
He recalled that over 900 factories in Kosovo and Metohija owned by the state of Serbia were "seized" in the process of robbed privatization, and the Serbs in Kosovo and Metohija and the state of Serbia hadn't received a single dinar.
Djurić stated that we, as a people, have learned our lessons the hard way regarding Kosovo and Metohija, which is why it is important that there exists a plan for each municipality, village or city, adding that, today, full attention is being given to all areas.
Djurić agreed with the statement that there are no final solutions when it comes to Kosovo and Metohija, but only a constant struggle for the realization of our interest so that we, as a people, can remain and subside in Kosovo and Metohija and any other place.
In this regard, he concluded that the economic policy of Serbia and the President Aleksandar Vučić shows that Serbia finally has a plan for each municipality.
Answering the question what does normalization between Belgrade and Priština mean, Djurić said that they have been searching for the common denominator for six years, and that for Serbia, normalization means "that there are no barriers and obstacles, and that people can live freely".
He recalled the disagreement on the status of Kosovo, but both sides agree that talks must continue in order to seek a solution.
"It is a fact that some of them are not equally committed to finding this kind of solution, which would involve a compromise. Some of them think that they have been given the prospect of achieving their goal without any flexibility and concession. Maybe they learned such behavior from the support they had in the past, but they surely cannot expect precarious concessions from us, nor will they have them, because there is no reason for that", Djurić said.