Vučić: Putin confirmed - Russia ready to join Belgrade-Priština dialogue
December 20, 2017. Source: Tanjug
The President of Serbia, Aleksandar Vučić, stated today in Moscow that he received a confirmation from the Russian President Vladimir Putin that the Russian side is ready to join the dialogue between Belgrade and Priština in case of attempts to expand the dialogue format and involve the USA.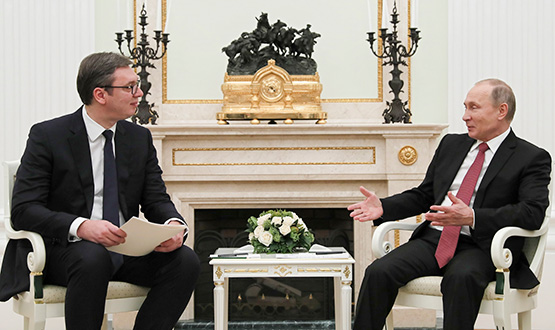 Photo: Tanjug
"We have reached some sort of agreement, in case of attempts and intentions to expand the format with new participants and mediators in the dialogue between Serbs and Albanians, Belgrade and Priština, if Americans want to become a part of such format. We asked if we may say that the Russian Federation would join the dialogue on our side, and he (Putin) responded affirmatively", Vučić said at a meeting with Valentina Matviyenko, Chairwoman of the Federation Council.
As Vučić said, if Albanians want Americans in the negotiations, the Serbian side will ask that Russia take part in order for the negotiations to be valid.
"For us this is logical, because Russia has not recognized the unilaterally declared independence of Kosovo. We are just look for and equal relationship on this issue. We could not speak of this earlier, as we didn't get the green light from the Russian state organs. We have it now and so we can talk about it", Vučić concluded.