Djurić with Dittman on the internal dialogue and the situation in Kosovo and Metohija
December 21, 2017.
The Director of the Office for Kosovo and Metohija, Marko Djurić, met today with the Ambassador of the Federal Republic of Germany to the Republic of Serbia, Axel Dittman.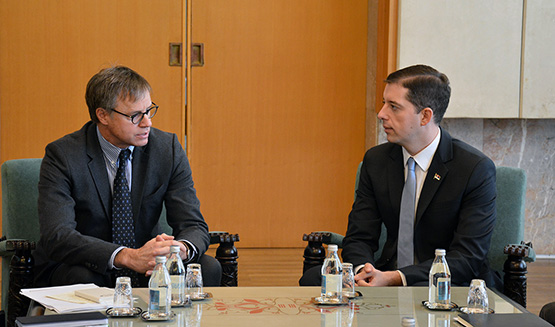 Photo: Tanjug
Djurić talked to Dittman about the ongoing internal dialogue on Kosovo and Metohija, initiated by the President of Serbia, Aleksandar Vučić.
"Thanks to this internal dialogue on Kosovo and Metohija, we have a historic opportunity to look at the entire spectrum of possible solutions, and therefore strengthen capacities for a more proactive dealing with challenges", Djurić said.
The interlocutors also discussed the current political and security situation in Kosovo and Metohija, as well as the prospects for continuing the dialogue between Belgrade and Priština.
Djurić told Ambassador Dittman that when it comes to Kosovo and Metohija, Belgrade is honestly and consistently committed to resolving all open issues through dialogue, stressing that Serbia wants to permanently be the pillar of stability in the region.