"Sun Valley" and "Banjska Spa", plans for the development of Zvečan
December 30, 2017.
In the Municipality of Zvečan a new housing settlement is being built and the spa is being restored. This is just a part of the plan for the development of the said community, located in the north of Kosovo and Metohija, which is being realized in cooperation with the Office for Kosovo and Metohija and the Diocese of Raška and Prizren.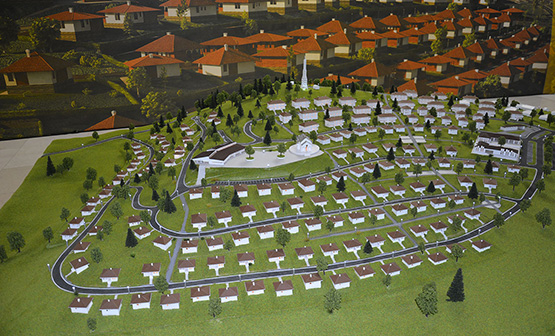 Photo: Office for Kosovo and Metohija
The revitalization of the old spa in Banjska, near Zvečan, started two years ago. For now, two outdoor swimming pools of the future "Banjska spa" complex have been built.
"The goal here is to put the "Banjska spa" on the map of touristic sites of Serbia. In the upcoming period we are planning to build several facilities", stated Nataša Aksentijević, from the Department for Urban Planning of the Municipality of Zvečan.
The residents are hoping that "Banjska spa" will once again attract guests who are looking for rehabilitation and a place for vacation.
"We hope that this complex will be built soon, that there will be job openings, increase of employment", said Uroš Radojković from Banjska village.
Zvečan used to be a symbol of economic power in Kosovo and Metohija owning to "Trepča" and its business. The life conditions in this municipality, which has 15.000 residents, are now relatively good. With its potentials, one may say that Zvečan has a good perspective.
"We can achieve our interests in Kosovo and Metohija together – with everyone doing his or her job, a teacher in school, the director of a company, worker at his post, we as politicians in Priština's institutions", the president of the Provisional Authority of the Municipality of Zvečan, Ivan Todosijević, declared.
Single and double houses, with accompanying facilities, are being built in "Sun Valley", in total 300 housing units for returnees.
"A shopping mall, cultural center, ambulance and two accompanying buildings are being built as we speak, and next year we will start building the church and kindergarten, and all accompanying facilities next to the road. Finally, in the last phase, we will start building the objects in the upper part of the settlement", the Director of the "Sun Valley" project, Slobodan Mihajlović, declared.
Ranko Nedeljković from the Municipality of Zvečan stated that one job position will be provided to those families who want to return.
"The main thing that people should know is that we will provide one job position for a member of the family who wants to return. This is what makes this project a sustainable one", Nedeljković stated.
The development of infrastructure and creating conditions for new job posts will significantly improve life conditions in the Municipality of Zvečan.