Djurić: For as long as there is Christmas, there will be Serbs in Kosovo and Metohija
January 06, 2018. Source: Tanjug
The Director of the Office for Kosovo and Metohija, Marko Djurić, attended the burning of the Yule log ceremony and the evening worship at the Church of St. Demetrius in Kosovska Mitrovica, and on that occasion said that for as long as there is Christmas, there will be Serbs and Serbia in Kosovo and Metohija.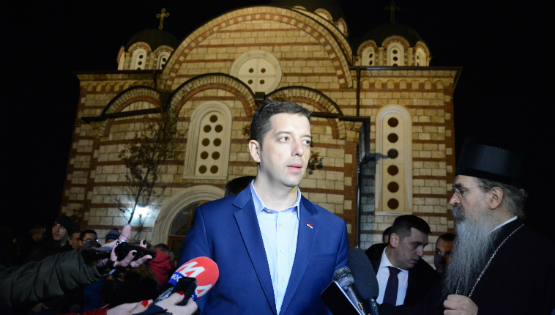 Photo: Office for Kosovo and Metohija
Djurić wished the gathered citizens happy holidays and Christmas Eve, and told all Serbs in the country and in the diaspora that it is important to foster Serbian customs because, without respecting its traditions a people cannot be successful.
"On Christmas Eve, from Kosovo and Metohija and Old Serbia, we are sending greetings to all Serbs, with a message that it is important to cultivate our customs, because that's what makes us a people", Djurić said.
We cannot be successful if we don't respect and nurture the things that make us a community, and Christmas is one of the most holy and important Christian Orthodox and Serbian holidays, he said after the prayer ritual of burning of the Yule log, led by the Bishop of Raška and Prizren Teodosije in the church port.
Djurić stressed that the key to the survival of Serbs in Kosovo and Metohija, together with the Serbian Orthodox Church, is perseverance and endurance.
"Here in Kosovo and Metohija, in Old Serbia, it is extremely important to say that each year we are fighting for survival and, together with the support of our brothers from all over the world, we pray that here in Kosovo and Metohija our people and our church will survive and become stronger, and we are convinced that perseverance and endurance of our people, together with our church, are the key to survival in this region and we, as a state, will continue to work on that, to remain in the future on these consecrated Serbian lands", Djurić said.