President Vučić: Serbs want to survive in Kosovo and Metohija without revenge
January 21, 2018. Source: Večernje Novosti
It wasn't easy, but I united our people in Kosovo and Metohija. Those who accuse me of practically killing Ivanović, do not resemble humans. I was amazed by the strength of Milan with the šajkača, from Suvo Grlo.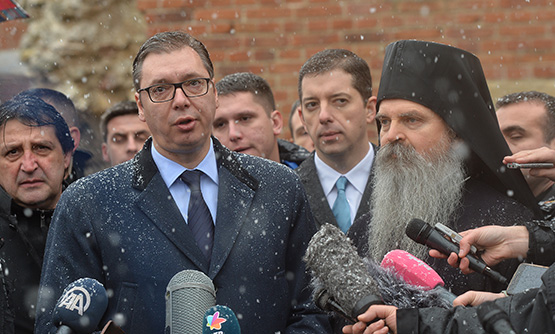 Photo: Tanjug
It was neither easy nor pleasant. I called all my political opponents to Mitrovica. We talked on the phone. I am pleased because I have done an extremely important job for the unification of our people in Kosovo and Metohija.
This is how, exclusively for Novosti, the President of Serbia, Aleksandar Vučić, sums up the marathon thirteen-hour long talks with Serbs in Banjska, Kosovska Mitrovica, Gračanica, Laplje Selo… during which he assured our compatriots that they must remain in their homes, but he also eased the tensions after the trauma brought on by the perfidious murder of Oliver Ivanović.
- I was obliged to talk to everyone about the interest of the Serbian people; that they have to remain in their own country. All those people that greeted me in Laplje Selo never welcomed anyone since the introduction of a multiparty system. I understood well that those people came to fight for their country and people, their families, for survival.
* How did you experience the fact that your political opponents marked this gathering as transparent staging?
- It is terrifying for me when they say this is a kind of political "cooperative" or "big brother", and it is well know that realities in Serbia have been patented by thieves who are attacking me. I have introduced open and honest conversation with the people, I wanted to hear what their everyday problems are and can we solve them, without playing nice to anyone. Frankly, we couldn't solve 90% of their problems, but we could 10%.
* What did you specifically learn in that direct contact with the people?
- Three key things have been pointed out to me. First, there are those who live richly and receive high salaries from the state of Serbia, while others get nothing from the state. Second, those people made it clear to me, and I myself believe in this, that with a little more effort and engagement we can help them and make life easier. Third, it seems to me that I spoke about the situation in Kosovo and Metohija in a rational and real way, even if many do not want to hear that. Of course, it did not appeal to the Albanians, unfortunately, nor to some in Serbia that would like to never hear from Serbs in Kosovo and Metohija. I understand why Albanians are bothered to hear about little Milan from Suvo Grlo who lost his father and whose brother was shot at, or that his mother with six children lost her husband and her son was shot at. But until now, there were only stories of Serbs being criminals.
* Where those upsetting life storied new for you too?
- The most important thing is that for the first time people saw the true faces of Serbs who have lost their loved ones and who only wish to survive. They do not seek revenge. They are asking for Serbs to still live in their homes. There were really many wonderful people with bitter destinies.
* How did you personally experience the fact that some opposition leaders in Belgrade and in Kosovo and Metohija are practically accusing you and SPP of murdering Oliver Ivanović?
- When someone has the need to accuse the head of the state for something like that, and at the same time never once went to Kosovo and Metohija or has ever seen Ivanović, it is best to keep quiet, and not react to the attacks of those who think they are human, but don't look like human. At the end, when your conscience is clear, when you work in the interest of your people, then you have to resist all of that and go on forward. I watched how they went wild because of my talk with our people in Kosovo and Metohija, because of everything they did not ever dare to do, nor they wished to do, nor were they ever interested in it. Who attacked me? Rada Trajković, who represents 0.0001% of Serbs in Kosovo and Metohija. Such people like some foreign offices, but that doesn't matter when the people don't like such persons. Or Dragan Djilas – a man who organizes telethons to appear in all of them and play the greatest humanitarian, and he got richer, and the people got poorer.
THE STRENGTH OF MILAN WITH THE ŠAJKAČA
- For me, one of the strongest impressions was Milan with the šajkača from Suvo Grlo – the President said. – That guy with the šajkača is really impressive; he has a boyish smile at 25, and the strength of an old man who has gone through a lot in his life. He remembers the killing of his father, he barely makes ends meet, but he is not thinking about leaving his motherland. Am I guilty because this is the first time Serbia's heard of his destiny? Should I be accused for the fact that Gračanica and Banjska are more beautiful now than ever? Or because we are no longer ashamed in front of Milutin? All of this could have been done by those before me, but it wasn't…