Djurić: Serbia will answer to any scenario in Kosovo and Metohija
January 21, 2018. Source: Tanjug
The Director of the Office for Kosovo and Metohija, Marko Djurić, stated that the visit of President Vučić to Kosovo and Metohija is of great importance to Serbs in the province, as a message of encouragement in this, as he said, crucial moment.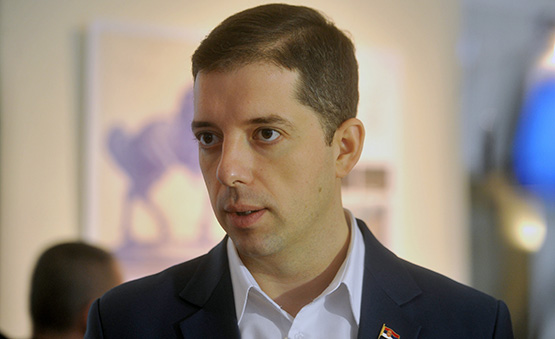 Photo: Tanjug
His arrival is actually a message that the entire Serbian population stands with Serbs in Kosovo and Metohija and that this solidarity and unity are inseparable. This is not an easy moment either in the political or security sense, but it means a great deal to our people that our President came to Kosovo and Metohija to talk to citizens and listen to their problems and see how our state can help them", Djurić said in an interview for today's "Kurir".
As far as the security situation in Kosovo and Metohija is concerned, after the murder of Oliver Ivanović, Djurić stressed that competent services are closely monitoring the development of the situation in Kosovo and Metohija, and that the state is ready to adequately respond to each scenario.
"No one will be allowed to jeopardize the security of our people in Kosovo and Metohija nor in any other part of Serbia", Djurić said.
He said that through talking to citizens in Kosovo and Metohija, he did not get the impression that they are planning to leave their homes.
"Such "announcements" are the result of political speculations and creating an atmosphere that would actually fulfill the goal of the terrorist who killed Oliver Ivanović", Djurić said, adding that the visit of President Vučić confirmed that indifference and fear are not part of the Serbian people in Kosovo and Metohija.
He also mentioned the famous graffiti "There is no going back from here", located not far from the Prince Lazar monument in Kosovska Mitrovica and added that this graffiti maybe best reflects the strength and will of people.
"Serbs in Kosovo and Metohija overcame a lot of things and I expect that this visit will contribute to the stabilization of the shaky security among our compatriots", Djurić said.
He says that there have already been attempts at directing the Oliver Ivanović murder investigation into the wrong direction, and to create a misguided impression by various political and media diversions.
"We have quite clearly stated: if those directly responsible for finding the perpetrators and shedding light on the circumstances regarding this crime are incapable or do not wish to do it, we will do it. It seems to me that, until now, there was no readiness to professionally and in full capacity do the work to resolve this crime", Djurić said.
He believes that the killers of Oliver Ivanović certainly had no intention of reassuring Serbs and doing something good to the state.
"The hank of evil intentions will unwind as we get close to finding those who are responsible for this crime. This is an act of terrorism because the aim of the attack was to sow fear among Serbs in Kosovo and Metohija and destabilization. President's visit is a clear message to those who think they can use this situation for allowing a foreign boot to enter the north of Kosovo and Metohija", Djurić said.
He repeated that he does not see how Belgrade can talk to Priština about the normalization of relations until a major breakthrough in the investigation of the murder of Oliver Ivanović.
"We have set our demands and they were very clear – we want our investigative bodies to be involved in the investigation and to uncover the killers and motives of this crime as soon as possible", Djurić concluded.