Djurić: Serbia – united with an aim to help people in Kosovo and Metohija
January 21, 2018. Source: Tanjug
The Director of the Office for Kosovo and Metohija, Marko Djurić, said that the visit of President, Aleksandar Vučić, to Kosovo and Metohija has resulted in creating unity in Serbia regarding its efforts to help the people in southern province, the same way the Serbs in Kosovo and Metohija are acting in unison when it comes to their wish to jointly, with the support of their state, fight for their survival.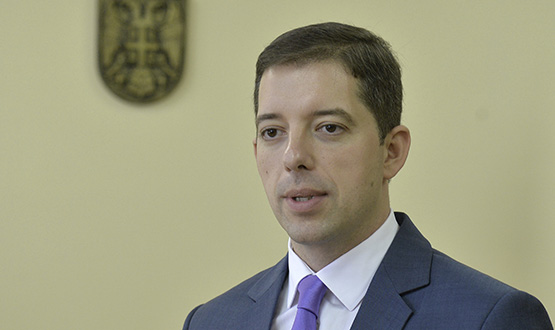 Photo: Tanjug
The goals and ideas of individuals who wanted to divide Serbs by conducting acts of terror, thusly inflicting the biggest possible damage on us, are being overpowered by this kind of assemblage, Djurić noted.
"This visit will play a pivotal role to motivate us to give it everything we got in order to overcome this difficult challenge and grave distress, and I am sure that this is the right way for us to persevere. Serbs in Kosovo and Metohija have a future – it lies in gathering, in joint work towards recovery", Djurić declared for Tanjug.
"The problems are numerous", he observed and assured that if Serbia had addressed the issue of Kosovo and Metohija like it did today, "by working diligently on the ground and talking as the President did yesterday", we wouldn't have been in this kind of situation.
"I am sure that we won't find ourselves in this kind of situation in the future, nor that the tragedies from the past will happen again. People have informed us about their anguish and problems, and we will continue to work with them daily. We are proud to say that 170 projects were realized, 42 churches and monasteries were restored during the last three years", Djurić informed.
He holds that our people in Kosovo and Metohija are very pleased for having the opportunity to welcome their President, to speak to him directly in "these arduous times", and to feel the humanity and support of the President, Serbian institutions and entire Serbia, as well.
"Yesterday, Serbia could see its people in Kosovo and Metohija surviving thanks to the support of the state, thanks to the presence of their state in their lives – manifested in personal incomes, different types of social assistance. Furthermore, I would like to recall that our people in Kosovo and Metohija also have special increased personal incomes and through relief programs in the field of agriculture, promotion of birth rate, but nonetheless we have to do more in that area", Djurić surmises.
The presidential visit represents a key contribution, helping to overcome a difficult challenge and acute troubles, Djurić concluded, and added that he is convinced that this was a right way to persevere.