Vučić: Nothing is needed more than for Serbs to stay and subsist
January 20, 2018. Source: Tanjug
President of Serbia, Aleksandar Vučić, stated today that he cannot agree with what he heard in Kosovska Mitrovica, and said that keeping the peace is, above all, the most important thing and in the interest of Serbs in Kosovo and Metohija.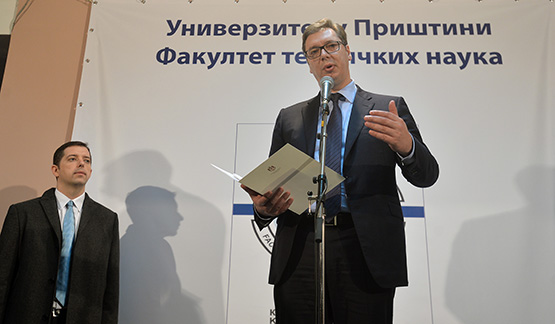 Photo: Tanjug
"I don't think you are against it, but I say that nothing else is needed at this moment more than peace, staying and subsiding at our hearth", Vučić said after the meeting with political and economic representatives of Serbs in Kosovo and Metohija.
As he said, they talked about life problems and necessary unity, greater trust and respect among Serbs "both here, in the north and everywhere".
Talks were difficult, he said, carried out in an atmosphere of horror after a horrible crime, the murder of Oliver Ivanović, and about many topics, from the implementation of the Brussels Agreement, up to the request for Serbia to give them arms, but that his answer was he hopes that Serbia will help by giving money for kindergartens, schools, health facilities…
"I told Milan Ivanović that we will see what else we can do for the Clinical center in Mitrovica", Vučić said.
He said that it was agreed that Serbia will fund six million euro for the water supply that is missing in Mitrovica, Zvečan and Zubin Potok, this year and next year.
"That's good news for three northern Kosovo municipalities, and we also talked about other projects, about remarks by kindergarten teachers that the salary increase is not intended for them, about roads…", Vučić said.
Vučić said that he personally sent an invitation for a meeting with everyone, not only people in power, but also from the opposition, to all councilors regardless of which party they belong to and thanked all those who are part of the decision making process in north of Kosovo for coming.
Vučić: We will have no mercy towards the murderers and orderers
President Vučić said it was not important who murdered Oliver Ivanović or who ordered it, whether it was a Serb, Albanian or any foreigner and he said that there will be no mercy for the perpetrators and the orderers.
Vučić said this after a three-hour long meeting with political and economic representatives of Serbs in Kosovo and Metohija, stating that the conversation was about how the people should remain in their homes and survive.
As he said, it is our duty to behave responsibly, to talk and this has to be a policy that Serbia leads and we will continue such policy.
He stated that, with the representatives of Serbs in Kosovo and Metohija, he talked about how people should remain in their homes and survive.
Vučić said that, for us, the name of the killer and orderer was not important, if it is a Serb, an Albanian or some foreigner, that he does not want to accept premature solutions thrown around by some who think that's how it should be, with a message to the perpetrators and orderers that there will be no mercy.
He said that we must lead a policy of peace, talks, that he even talked to Thaci recently and that talks must continue.
He said that he is aware of what Albanian journalists and politicians in Priština are doing, but this speaks more about them, then us.
Vučić said that it is up to us to act responsibly.
The President of Serbia pointed out that Priština institutions are the ones who have effective jurisdiction here and those who have guaranteed their effectiveness.
He recalled that 98 percent of Kosovo police forces are made up of Serbs, and that three municipalities were intended to be added – Southern Kosovska Mitrovica, Vučitrn and Srbica, and then the percentage of Serbs would be around 31%.
He said that different opinions were herd during the meeting, but they understood each other well.
We didn't have to agree on everything but we understood each other, regardless of the political option we belong to, the President of Serbia said, adding that they talked openly about everything.