Free cataract operations in Belgrade for 15 Serbs from Kosovo and Metohija
January 24, 2018. Source: Tanjug
Fifteen persons from Kosovo and Metohija came to Belgrade today, where they will be operated for free in the Special Ophthalmology Hospital, provided by the Office for Kosovo and Metohija, in cooperation with this hospital..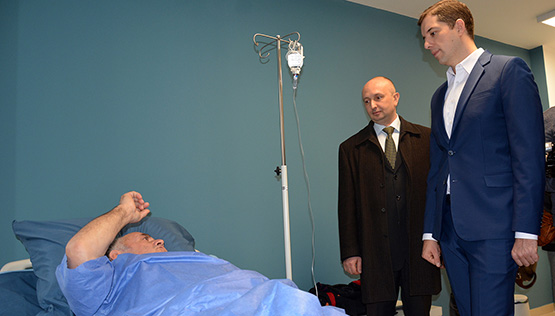 Photo:Office for Kosovo and Metohija
As the Director of the Office for Kosovo and Metohija, Marko Djurić, said, solidarity and unity in helping our people are the best response to all temptations and can guarantee the survival of Serbs in Kosovo and Metohija.
"Our Serbian spite has awoken, they want us not to be there, and we have agreed and are working together to survive and this is the best answer. Those who wish for a smaller number of us there must understand that they are not only talking to 100,000 surrounded and isolated Serbs in Kosovo and Metohija, but with 7.5 million Serbs in Serbia, and all Serbs around the world, and with this joint solidarity and struggle we can persevere and survive", Djurić said.
The hospital owner, ophthalmologist Vladimir Petrović, said that this is actually the continuation of the charity screening and surgeries for our people from the southern enclaves and together with a team of associates and doctors from Kosovska Mitrovica and Belgrade – Dragan Bjelošević, Miloš Pašić, Milorad Ljutica and Marko Kontić, they are doing everything that would help improve the quality of life.