Djurić strongly condemns hate messages at school in Ugljare
January 28, 2018.
I strongly condemn the attempt to intimidate the Serbian population in our southern province by writing hate messages on the school building in Ugljare, near Kosovo Polje.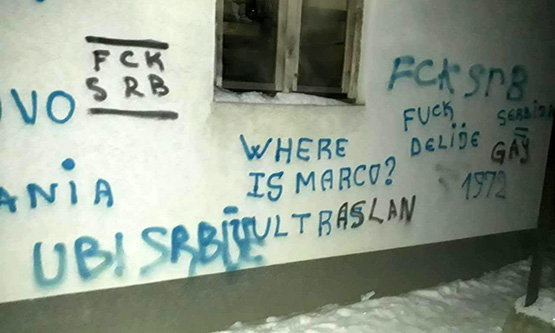 Photo:Office for Kosovo and Metohija
The small Serbian population that had, despite frequent pressure, remained to live in Ugljare, must receive increased protection from the local police and international security forces after this incident, in order to send a clear message to provocateurs and perpetrators that chauvinism and terrorist threats in Kosovo and Metohija will not be tolerated.
In an environment where nationally motivated physical and armed attacks on children have happened not long ago, no incident of this kind should be neglected and kept a secret, but the investigative authorities and the security community must determine the degree of vulnerability of Serbs in Ugljare.
It should not be allowed for Kosovo and Metohija to become an instability zone after years of negotiations and the stabilization of the security situation, and Serbia will be an honest partner in all efforts to ensure that such incidents forever remain a part of the ugly past.
However, Serbia stresses once again that we will not stand idly and helpless before any eruption of violence in Kosovo and Metohija, and I warn all those who wish for a new instability in our southern province to think well about the consequences.