Djurić with Ivanov about the National day of Serbs in Macedonia
January 27, 2018. Source: Tanjug
The Director of the Office for Kosovo and Metohija, Marko Djurić, conveyed to the Macedonian President, Djordje Ivanov, expectations of the Government of Serbia that the support for Serbs in Macedonia will be strengthened.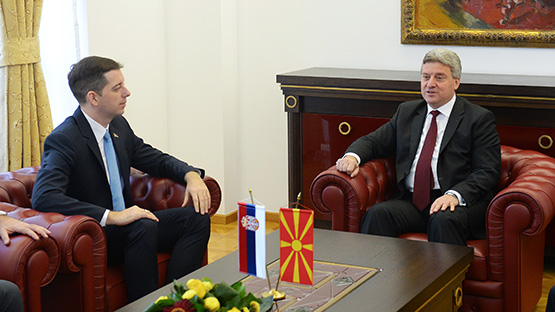 Photo: Tanjug
Djurić is in Skopje on the occasion of marking St. Sava Day, a national holiday for Serbs in Macedonia.
"Serbia is present here not only on St. Sava Day, but there is a mutual political desire of our two countries to connect more", Djurić stressed after the meeting with the Macedonian president.
According to him, Serbs and Macedonians must "turn to each other" because they are not only connected by the common past, but also should additionally be connected in the future under the regional, as well as European context.
He added that these two peoples are bound by the same challenges they face.
"We want the same things – to preserve our identities and the future of our people. That is why the position of Serbs in Macedonia is extremely important, it is important to preserve the Serbs in Macedonia and Macedonians in Serbia, because that is the organic thread connecting our two countries", Djurić emphasized.
He thanked Ivanov for what has been done so far for the Serbian people, and conveyed his support for the Serbian people in Macedonia who are fighting to preserve the culture, identity, faith and tradition.
"Serbs in Skopje feel at home here, as Macedonians feel in Belgrade", Djurić said.
The meeting was also attended by Ivan Stoilković, president of the Democratic Party of Serbs in Macedonia, who pointed out that this is the 11th anniversary of the celebration of St. Sava Day as a national holiday for Serbs in Macedonia, and that this time they are marking it "while in the opposition".
"We managed to not only preserve this holiday, but also to preserve the Sr. Sava Solemn Academy. It survived the change of power, and the national holiday gained an even stronger foothold, not only among Serbs, but also the Macedonian public", Stoilković said.
The Serbian community will mark the national holiday of Serbs in Macedonia by a solemn academy to be held tonight at the Macedonian opera and ballet.