Snežana Dubić, a single mother from Kosovo and Metohija, acquired a new tractor
February 01, 2018; Source: Tanjug
The promise given to Snežana Dubić, a single mother of six from the village Suvi Lukavac in Kosovo and Metohija, to whom assistance in a form of a new tractor was promised, after recently held talks in Laplje Selo with the President of Serbia, was fulfilled – the new tractor arrived into her backyard.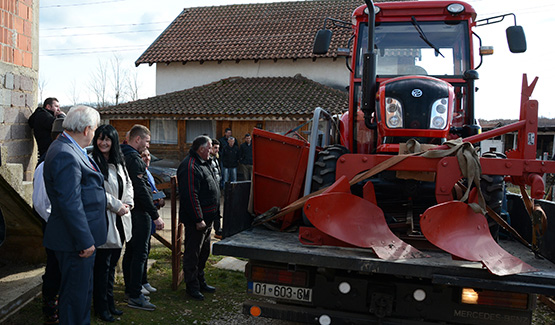 Photo: Office for Kosovo and Metohija
The tractor with corresponding mechanization was donated to Snežana by the director of "Feman" Company from Jagodina, Miodrag Nikolić, who, upon hearing her story, decided to help her.
"I am very happy today", Snežana said to reporters upon seeing a new red tractor with plow, harrow and basket, which was transported to her backyard.
The first one to sit behind the steering wheel was her son, Žarko, who welcomed guests wearing šajkaca cap and Serbian traditional folk costumes.
"Žarko will be the one to use new tractor the most, because he is good in farming. He is finishing high school, but I have no money to send him to college, which means that we will be staying here and work…", Snežana said.
When asked what this new tractor meant to her and her family, she pointed out that from now on her children would be able to farm their land more easily, and to earn thanks to plowing.
"Thanks to this tractor we will be moving only forward. We are currently cultivating 11 hectares of land, mostly corn and wheat. I can hardly wait for spring to come, to use the tractor then, to see children working. This way we can hope, for we have seen hard times before", Snežana noted.
According to Snežana, it is hard to be a single mother in Kosovo and Metohija, to earn as a cleaning lady in Health center "Sojane", but, as she proudly points out: I have six children – three sons and three daughters, the eldest is 31, and the youngest is 13".
She became a widow in 2004, when her husband suddenly passed away due to a heart attack, and ever since then, as she said, "God and people" were the ones to come to her aid.
Snežana showed the barn behind the house to the reporters, which was set on fire in the eve of the Orthodox New Year, on January 13.
"Who set it on fire, I do not know. Haystack, straw and barn perished in fire, leaving only barn's concrete blocks intact", she said.
However, Snežana was informed about the promise given by Dalibor Jevtić, the Minister of provincial Government, who said that she will be provided with roof tiles and the material for the restoration of her barn.
Snežana considers herself to be a brave woman who managed to raise six children on her own, because, as she put it, she was never afraid to work, to manage the land and to tend to livestock.
In the backyard, she has chickens, four pigs and one cow, but she admitted that one more cow would mean a lot to her.
After the cameraman ended his filming, she conveyed that she had to sell one cow in order to pay the tuition for one of her children.
"I would like to extend my gratitude to all people, but first and foremost, to President Vučić for meeting our demands, to Nikolić who donated the tractor, to Jevtić who promised us the material for stable renovation, and to all those who have taken me that day to the hall to speak with Vučić", Snežana emphasized.
We have asked her what did her children want – to stay in Kosovo and Metohija or leave and try to find their happiness someplace else, and Snežana answered that "her children would not leave this place because they love their home".
"We will not leave this place. My only desire is for my children to find someplace to work, this is all I want. I will stay here until the very last Serb remains", Snežana bravely declared.
Her son Žarko agreed with her statement. "If I did not like it here, I would not insist on staying".
Milutin Nikolić, the tractor donor, described his humanity with the following words – the wealth of a person lies in his ability to help others.
"I have watched the television broadcast of the six hours long talk between Vučić and people who live in Kosovo and Metohija, and the thing that touched me the most was the story of Snežana Dubić. I am happy for being able to help her today", Nikolić declared.
He said that after donating the tractor, numerous colleagues, businessmen, reached to him who, apart from extending their congratulations, expressed desire to help.
He did not spare any money when it comes to tractor, as he informed. He bought the best one, which was priced at a little more over 10.000 EUR.
In the name of the Office for Kosovo and Metohija, the Assistant Director, Zoran Bojović, paid Snežana a visit, who said on that occasion that today's action represents only a beginning when it comes to providing assistance to Serbs in Kosovo and Metohija.
"Large number of benefactors reached to us, we have a coordinated team which receives all donations, news on donations, and this team is in charge of collecting assistance as well. We also examine the needs of all people who are lacking in this sort of assistance. We are trying to help in every way and to direct the donations to the right people", Bojović declared.
He said that the people in Kosovo and Metohija were humble, hard-working and diligent, and added that the Government of Serbia would stay with its people and help in every way in order for them to stay and subsist in the territory of the southern Serbian province.
From today, a new life starts for Snežana, Igor, Žarko, Leonid, Velika, Natasa and Ivana Dubić.