Introduced a new bus line connecting Osojane and Kosovska Mitrovica
February 02, 2018. Source: Tanjug
A new Osojane - Kosovska Mitrovica bus line was introduced, connecting seven returnee villages in the Municipality of Istok.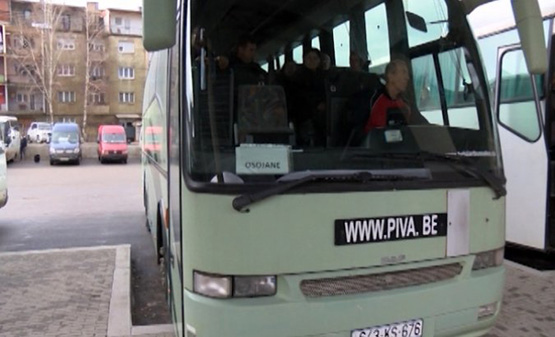 Photo: Office for Kosovo and Metohija
This Bus line is going to make the travelling substantially easier to the Serbs in the returnee villages in the Municipality of Istok, and it was introduced upon request of citizens of those villages recently made in Laplje Selo to Serbian President Aleksandar Vučić.
Citizens underscore this bus line spells survival for them, and that without this mode of transport their families especially the senior members, could not properly go about their business, as reports TV Most, also adding that previously many of them were compelled to go on foot for five or six kilometers.
The Serbs openly express their satisfaction and say that President Vučić made good on his promise and enabled movement to inhabitants of seven returnee villages in the Municipality of Istok, thus providing hope to remain in their homes and assurance that they have someone to ask for assistance.
"This means our survival, since without this transport our families and especially the older members would not be able to function. It took some time, but we saw the day the transport arrived", says Radoš Radovanović from the village of Dragoljevac, a passenger in the bus.
He says that their village spreads along the fifth and sixth kilometers from the closes bus station, so they were forced to pay for taxi services to get home.
"As from this day on, it is better and easier. For this, give our thanks to President Aleksandar Vučić, to Director of the Office for Kosovo and Metohija Marko Đurić, and to Snežana Popović who has urged President Vučić to meet our needs and provide this transportation to us", Radovanović says.
When asked if anything has changed following the President's visit, Ljubomir Mirković from the village of Donji Dragoljevac confirms the changes were made and that shortly after President Vučić' visit they got the bus. Previously, we had to walk to Lukavac and wait for the bus to come to Osojane, and now it rides through Donji (Lower) Dragoljevac and Istok and takes on passengers through Gornji (Upper) Dragoljevac so that we have this transportation again", says Ljubomir. He also informs that the day before they were visited by the commission tasked with providing assistance in the machines.
Radoslav Pavlović from the village of Dubrava, Municipality of Istok, shared that in this village lived six families which have until now been compelled to walk six kilometers to reach to the Lukavac village.
"No bus made a stop along this road, not even the bus on its line to Mitrovica, passing less than a kilometer from the house, wanted to stop and take us. Now, since President came to Kosovo, a lot has changed", said Pavlović. He went on to add that Vučić did a lot for the Serbs in Kosovo and Metohija.
Mirković Daliborka from the village of Donji Dragoljevac says that things have quite changed after the President's visit.
"This is most helpful as it enables us to travel, because prior to the bus we used to have a lot of problems including having to pay for the taxi ride whenever we needed to go somewhere, to seek medical assistance or to go anywhere else".
Anđela Đurić, an art history student, shares she is happy with the new transportation mode.
"I am happy, it runs on Tuesdays and Fridays, it is free of charge, and it means so much for us students, so much better than to have to pay for a ride".
On the other hand, Radanović Radoš from the village of Tučep, Municipality of Istok, reveals that he chooses to walk as he did before, and holds that it used to be good only for so long as the minibus used to run.