Djurić and Mondoloni: A positive trend in bilateral relations
February 12, 2018.
The Director of the Office for Kosovo and Metohija, Marko Djurić, met today with the French Ambassador to Serbia, Frederic Mondoloni.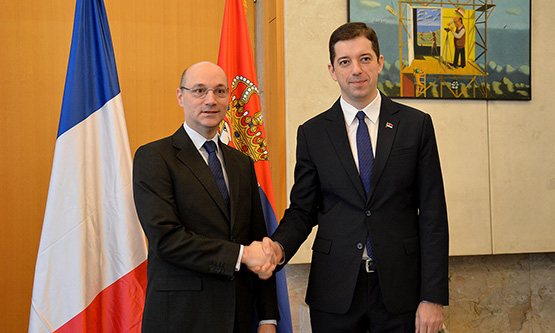 Photo: RTS
The interlocutors agreed that there is a positive trend in bilateral relations and that they hope a great future awaits Franco-Serbian relations, especially after the meeting between presidents Macron and Vučić.
Djurić introduced Ambassador Mondoloni with the course of the Belgrade-Priština dialogue, noting that Belgrade has largely fulfilled all obligations arising from the Brussels dialogue, while on the other hand Priština hasn't even started implementing the agreement on the establishment of the Community of Serbian Municipalities, nearly five years after the signing of the Brussels Agreement.
The topics of conversation were the political, security and socio-economic situation in Kosovo and Metohija, and Djurić informed his interlocutor about the results of the Government of Serbia in Kosovo and Metohija, which are, according to him, most visible in the construction of houses, apartments, schools, kindergartens, hospitals, health centers and clinics, cultural centers, restoration of religious and cultural heritage, as well as in the continuous agricultural, economic, social and legal assistance for the Serbian people in the province.
According to Djurić, Serbs in Kosovo and Metohija, as well as the Government of Serbia, are sincerely interested in stability in Kosovo and Metohija and are ready to seek answers to all challenges in the province within the dialogue with Priština.