Djurić: I'm impressed by the grit of our people
February 11, 2018.
The Director of the Office for Kosovo and Metohija, Marko Djurić, stated today that he is impressed by the spirit and grit of our people in Kosovo and Metohija.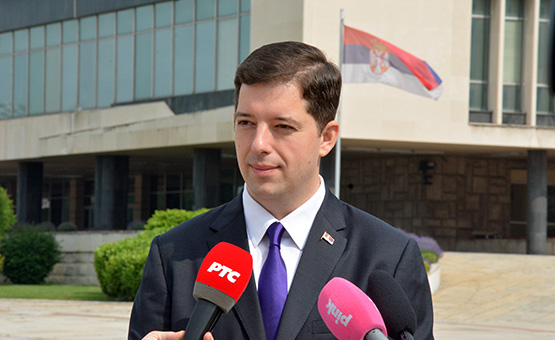 Photo: Office for Kosovo and Metohija
While speaking to Pink television about yesterday's visit of a group of Serbs from Kosovo and Metohija to the Government of Serbia, Djurić stressed that efforts have been made to answer in a maximally concentrated way all requests by our citizens from the province, and that President Vučić's visit to Kosovo and Metohija triggered an avalanche of humanitarian and charity activities.
Djurić added that he was impressed by the humanitarian aid collected in Vojvodina, also through the Serbian Progressive Party, which amounts to about 500 tons or 60 trucks.
He reminded that the Office for Kosovo and Metohija for three and a half years moved in people into 888 houses and apartments in Kosovo and Metohija, and that 42 churches and monasteries were completely renovated and built through 170 projects.
"If we managed to restore all frescos in Gračanica, and do the same in Visoki Dečani, in Draganac, Banjska, Gorioč and Sokolica, and many other places, and to restore churches destroyed and burned during extremists' violence, we have sent a message that we will not give up on what is ours, that we are ready to live there and fight, and that we consider it to be ours", Djurić said.
He denied allegations in a Belgrade-based newspaper with foreign ownership capital that the Office for Kosovo and Metohija hid the value of public procurements, saying that those were allusions and facts are being distorted.
He said that "a Belgrade newspaper, whose capital comes from countries that have recognized and supported the independence of Kosovo and Metohija, by distorting facts tried to allude that something is wrong and that the amounts for fuel and travel for the Office for Kosovo and Metohija are being hidden, although we have provided them with an answer that this is not true, that all data is publicly available to be published".