Vučić: A compromise with Albanians – of life interest for Serbia and Serbian people
February 18, 2018. Source: Tanjug
The President of Serbia, Aleksandar Vučić, stated today that a compromise with Albanians is of life interest for Serbia and Serbian people.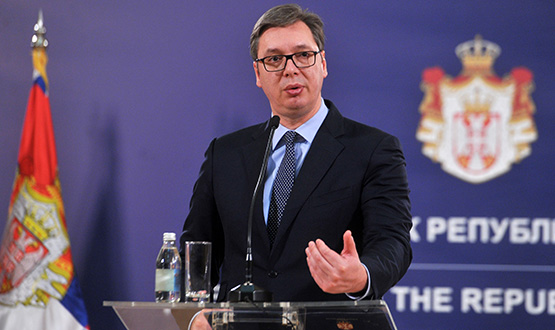 Photo: Office for Kosovo and Metohija
A compromise, not giving up, president Vučić said after talks with students from the Priština University, based in Kosovska Mitrovica.
He said that Serbia's position is very difficult:
"Serbia is struggling in the fight against great powers in the political arena. We are not fighting against Priština or its political representatives. But Priština is fighting against us, and together with Priština, so is Washington D.C. and London, everywhere in the world, in every place", the Serbian President said.
He explained that they are exerting pressure on countries to not withdraw the recognition of Kosovo's independence, and on countries that have not done so – to recognize it.
He added that it is not ours to pout, not to try and win battles which we cannot win, but we will fight some more, he said, with political means, of course.
He pointed out that a series of cases of recognition withdrawals show how this process is clearly not one-sided, as they represent it.
He noticed that while speaking to the students from Kosovo and Metohija they understand that we must try to reach a compromise with Albanians, and that those who are against it don't understand that we are all losing in that way, all of us, Serbia and Serbs, because it's unlikely that there will be more of us in Kosovo and Metohija.
"Those who show off by going to Gazimestan once in three years, and our people must live in Kosovo and Metohija, go daily between Klina and Istok…", Vučić said.
He emphasized that the state leaders and he are pressured but that's part of the job, they lead the country, despite of everything, but that it must be understood – a compromise is of vital interest of Serbia and Serbian people.
The President Vučić also recalled that in the case of the self-proclaimed independence of Kosovo, the international public law and all legal principles have been violated in order to deprive Serbia of a part of its territory, by brutal force.
As he said, great powers that have recognized this independence and that took part in this business now have a problem, because Albanians had their home country, which makes a huge difference, and an even bigger mistake was made with how Serbia formulated the question about Kosovo's independence before the International Court of Justice.
Vučić: Pulling someone's ears is no good, Serbia has to be asked
The President of Serbia, Aleksandar Vučić, stressed today that Serbia's opinion matters again, and no one should think that something can be done regarding the issue of Kosovo and Metohija by "pulling Serbia by the ears".
"In order for someone to become a UN member, it must reach an agreement with Serbia. In order for this agreement to be reached, we must come to a compromise solution… I don't see how Priština can become a UN member without a comprehensive, serious and difficult compromise, that they must make with Belgrade, in order for Belgrade to enable that. The Americans or the English will make us do it and pull us by the ears, and we will have to do it all – you will not watch this movie", the President said at the press conference.
He added that "ear pulling" can be done to someone else:
"No one will pull the ears of today's Serbia", he stressed.
At the press conference, Vučić said that Serbia's opinion is relevant again and that we wanted to achieve this.
Technical dialogue on February 26, topics from CSM to diplomas
The President of Serbia, Aleksandar Vučić, confirmed today that technical talks between Belgrade and Priština will be held on February 26th and that he expects the political dialogue to be continued at the end of this month or during next month.
"The technical dialogue will continue on February 26, and Serbia will be represented by Marko Djurić. I think all topics will be on the table, from the Community of Serbian Municipalities to the diplomas", he told reporters.
He said that at the end of this month or during next month, the dialogue between him and Hashim Thaci will continue.
"As far as Serbia is concerned, we are always ready. During these elections, I only go to gatherings once a week and I do exclusively state business for the other six days. This is my job and I am ready to respond to European mediators at any time", he stressed.
He pointed out that the dialogue between Belgrade and Priština had not resumed on January 16, as was previously planned, due to the murder of Oliver Ivanović.
Regarding this, he said that he is waiting to see the results of the investigation, that he will be patient and will then come out with his thoughts on all stories going around, about everything that has been happening in Belgrade and Priština, as well as some strange things such as, for example, why we do not have satellite images.
"I had to call Oliver's wife to ask if there was a fog that day, and she said no", Vučić said.
He wished the authorities in Priština good luck in finding the killer, adding that the investigation and conclusions should be based on real evidence and not on someone who took a picture of the gun shells with their phone camera, to lead people on to the killer.
"Then you realize that all off this served to lead the public on", Vučić stressed.