Djurić: Come to Kosovo and Metohija – where the heart is
February 22, 2018. Source: Tanjug
The Director of the Office for Kosovo and Metohija, Marko Djurić, officially opened today the booth of the Office for Kosovo and Metohija at the Tourism Fair in Belgrade and invited everyone to visit Kosovo and Metohija and, as he said, come where the heart is.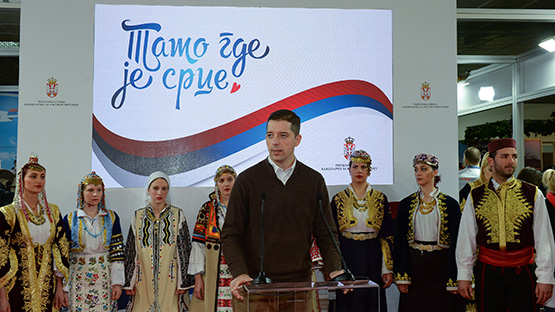 Photo: Office for Kosovo and Metohija
Djurić said that, in 2018, there are at least 365 reasons for people to visit the cradle of our spirituality, tradition and identity.
He said that in Kosovo and Metohija there is a lot to see, hear and experience and the warmth of people's welcome can be felt from Gračanica to Štrpce.
"Come and spend one night in Velika Hoča, taste the traditional Serbian food and wine… Come to Brezovica, to ski at the "Serbian Alps", to see some of the most beautiful and most challenging ski trails in the Balkans, to see our monasteries and sanctities", Djurić said.
As he pointed out, such a whirl of history from the early middle Ages, the time of the most drastic development of the Serbian state, cannot be seen anywhere.
"Come to the Visoki Dečani, to worship at the relics of St. Stefan Dečanski, to look at candles that Queen Milica left to be lit on the day when Serbs are breathing and living freely in Kosovo and Metohija, as they have at the beginning of the 20th century", Djurić said.
He said there are many reasons to be with our people in Kosovo and Metohija, not only for tourism and to see and learn something new, but for the most important reason – our heart.
"When I invite you all to come, I say with good reason that we are going where the heart is, we are going to Kosovo and Metohija", Djurić said.
At the Tourism Fair, the municipalities of Kosovska Mitrovica, Zvečan, Zubin Potok, Orahovac, Istok, Gračanica, Prizren and Štrpce are being presented.
As mentioned, special accent is placed on four tourism concepts – the mountain pearls, Brezovica above all, walking and cycling tours, health and rural tourism.