Vučić: Serbia also needs to be heard, in order to reach a compromise
February 23, 2018. Source: Tanjug
The President of Serbia, Aleksandar Vučić, stated today in Sofia that Serbia is for the continuation of the dialogue in Brussels, for a compromise, but that a compromise can be reached only if Serbia is heard.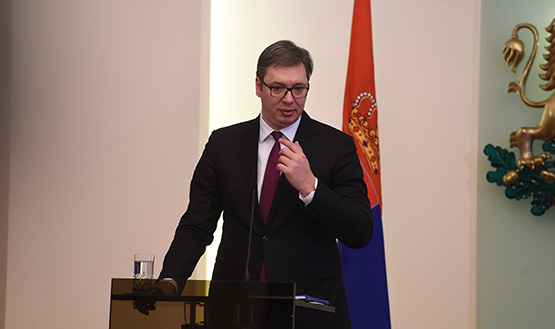 Photo: Office for Kosovo and Metohija
During a joint press conference with the President of Bulgaria, Rumen Radev, Vučić thanked Radev for his support to Serbia on its European path and for advocating that Serbia's position on the issue of Kosovo and Metohija is heard.
He stated that in a few days he will tell the President of the European Commission, Jean-Claude Juncker, that for a compromise to be reached, Serbia needs to be heard, and that he hopes EU will understand.
"I will say the same to Juncker, I hope they will understand, and I will repeat the same words that Radev said – I will ask them to, from time to time, not only hear but listen to what Serbia has to say. That there are no predetermined solutions that they have already reached by themselves, but to listen to Serbia, because only in this way can a solution be reached and in this way only a compromise can be reached", Vučić concluded.
Noting that for Serbia, EU membership in 2025 is an ambitious goal, Vučić said that Serbia will give its all to meet the criteria, while reminding that there are additional criteria, which did not exist for other EU states, and that is the issue of Kosovo and Metohija.
"Everyone knows that and it's not a secret that the biggest obstacle on Serbia's path to the EU is the issue of Kosovo and Metohija", Vučić said, adding:
"We will continue with the dialogue and try to reach a compromise. Whether we succeed doesn't depend only on one side, because each compromise requires the consent and will of at least two parties, and sometimes even more", President Vučić said.
As he said, it is necessary to do your best, but that both sides lose something, that they are equally dissatisfied, in order to reach a solution – it that's possible.
He particularly thanked his Bulgarian counterpart Radev for repeatedly saying that it is important to hear Serbia's voice.
"If someone thinks that the solution is for Serbia to lose everything, and that everyone else gets everything, that they are satisfied, and Serbia to be unsatisfied and humiliated – we think that there will be no solution there.
That's why we are for a compromise and we are grateful to President Radev for wanting to hear Serbia's ideas, problems and challenges we are facing", Vučić emphasized.
"If it isn't so, it's not the end of the world, except that we will lose a lot in the future, both Serbs and Albanians. That is why I hope for a compromise and I believe in compromise", the President of Serbia stressed.