Kozarev: Channel network will protect the households from floods
March 05, 2018; Source: Tanjug
In several Serbian communities in Kosovo and Metohija, south and north from Ibar, due to sudden snow melting the rivers overflew their banks. The situation is especially severe in Prilužije where a state of emergency has been declared. Around one hundred households were flooded, after the river Lab overflew its bank. Last night was a dramatic one, but according to latest information, things are better now and there is no danger of further floods.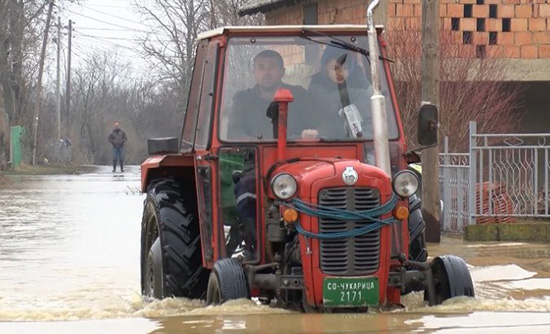 Photo: Office for Kosovo and Metohija
The inhabitants of Prilužije, whose houses were flooded, can reach their homes only in tractors.
The Gojković household is one of the many that suffered significant material damage due to the flood. There is moisture inside the house since the last floods, due to that the floors swelled, whereas the walls are drenched with water. The most difficult thing is to maintain hygiene and they have no means to renovate, the same as the previous year. It is hard to live in such conditions with immobile elders and children.
A state of emergency was declared in Prilužije, whereas the urgent meeting of the Crisis Staff was held last night and it was attended by the Deputy Director of the Office for Kosovo and Metohija, Dušan Kozarev. He underlined that there is no danger when it comes to the lives of inhabitants because all measures are being undertaken in order to prevent consequences.
"When this wave passes – because we cannot do anything if there is water everywhere – we will have means to repair the damage and to compensate the farmers for the damage inflicted to the crops. Teams from Belgrade will determine how to protect the most vulnerable areas in Kosovo and Metohija from torrential floods, that is, the area of Babin Most, Prilužije and Plemetina. The channel network regulating the watercourse will be renovated, and built in some places should the need arise", Deputy Director of the Office for Kosovo and Metohija, Dušan Kozarev said.
"Since 12 o'clock yesterday to noon today, for almost 20 hours, the water only penetrated inside, but the people came to aid, and thank God, there were no victims. Around 177 households were flooded, but the villagers did not abandon their homes", Aca Mišić, the president of the Interim Authority of the Municipality of Vučitrn, declared.
Lab overflew its bank in November 2016 and flooded Prilužije, which is why the villagers are expecting a durable solution for this problem.