Internal dialogue on Kosovo and Metohija with students and the youth
March 09, 2018. Source: Tanjug
The internal dialogue was continued today in Belgrade, organized by the Working Group of the Government of Serbia and the Student Conference of Serbian Universities, and the Director of the Office for Kosovo and Metohija, Marko Djurić, said that the problem of Kosovo and Metohija was inherited and that future generations will also "fight" for the southern province.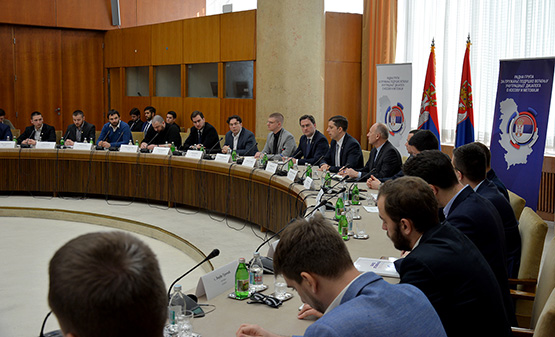 Photo: Office for Kosovo and Metohija
Opening the discussion on the internal dialogue, initiated by the President of Serbia Aleksandar Vučić, Djurić said that this is why the participation of the youth in resolving the issue of Kosovo and Metohija is of great importance.
"It is quite certain that we will have the responsibility to offer an answer to some of the crucial issues that are being raised regarding this topic. The participation of the youth in resolving the issue of Kosovo and Metohija is of great importance, because this is a matter that extends through many past, present and future generations", Djurić said.
According to him, the great challenge is for Serbs to be in line with the world in the intellectual, technological and every other sense, in order to solve issues and that the youth in Kosovo and Metohija understands how important it is that they remain in the southern province.
"It is very important to restart our entire academic, political, cultural, intellectual public and to engage in solving this problem and nobody can do it better than young people", he said.
He added that a large number of young Albanians from Kosovo and Metohija have for years been studying in the best schools in the west and said that they are coming back to Kosovo and Metohija in order to help achieve Albanian national goals, regardless of the fact that these goals are contrary to principles of law and justice, but also the interests of those living in Kosovo and Metohija.
"Our responsibility in this respect is not to lag behind and that's why it's important for our students to be fully engaged in this issue. You have shown that Serbia's youth is not fleeing away from dealing with the Kosovo and Metohija issue, as no Serbian youth has fled in our history", Djurić said.
The President of the Student Conference of Serbian Universities, Milan Savić, pointed out that he is glad that students are a part of such a dialogue, because it is significant in its importance.
"Students and the youth are very important for a country, but that country will not last long if we forget its roots", Savić said.
He pointed out that what moves Kosovo and Metohija is the University in Priština with a temporary seat in Kosovska Mitrovica and added that without the university there are no conditions for life, or for work.
"I think many people from our country don't have a realistic view of the events in Kosovo and Metohija. I can freely say that student have favorable conditions for studying. As a student from that university, I agree with the desire of my colleagues from Kosovska Mitrovica to continue my studies in that university within the educational system of Serbia", Savić said.
He said that for initiating the internal dialogue state courage was needed, and many mistakes have been made only a few years ago, which we are paying for even today.
"In the dialogue everyone can say what they think, but for me personally, Kosovo and Metohija is an inalienable part of Serbia. However, due to previous mistakes, this dialogue is needed. We, young people, should not be salon nationalists and stick our heads in the sand, but we must face reality. The reality is cruel, but we mustn't give up", Savić said.
The Secretary General of the President of Serbia, Nikola Selaković, was also present at the round table.