NGOs in Kosovo and Metohija took part in the internal dialogue
March 14, 2018; Source: Tanjug
The representatives of 20 civil society organizations, engaged in environments with Serbian majority in Kosovo and Metohija, gathered today in Kosovska Mitrovica at the round table which was organized within internal dialogue about the southern province.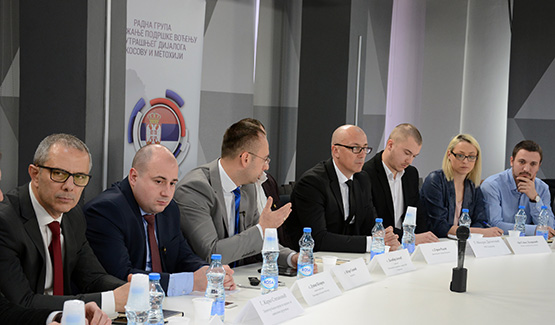 Photo: Office for Kosovo and Metohija
The activists of non-governmental sector informed the representatives of the institutions of Serbia and Serbian representatives in the Provisional Institutions of Self-Government in Priština, who took part in the round table discussion, about their points of view regarding the problems in the province, researches they conducted and proposals for promotion of position of the Serbian people.
A lot of attention during the discussion was paid to everyday issues of citizens – the problems the young people are facing, administrative and gender equality issues.
Deputy Director of the Office for Kosovo and Metohija, Dušan Kozarev, praised in his statement the readiness of non-governmental organizations to take part in the internal dialogue, and thanked them for being appreciative regarding its significance.
"I thank the speakers who demonstrated correctness, illustrative way of thinking and precision during the discussions and I would like to further thank them because they presented in these debates detailed information and updated facts about important issues pertaining to the everyday life, which very useful Mr. Marko Djurić, representatives of the Serbian List, the Government of Serbia and our team for Brussels negotiations to defend the interests of our community and our people in Kosovo and Metohija", Kozarev stated.
He expressed his satisfaction because civil society in Kosovo and Metohija demonstrated once again that has high level of consciousness and quality of communication, and because some of key issues were reiterated and confirmed, like for instance, the importance of survival of Serbian educational and health system in the province.
According to his words, the fact that they reassessed the topics pertaining to the field of environmental protection, energy security and infrastructure, was noteworthy.
Director of the Office for Civil Society Cooperation, Žarko Stepanović, pointed out that for him today's round table was immensely useful, allowing him to better understand the situation in Kosovo and Metohija and conditions in which non-governmental organizations are functioning in our southern province.
"Today's discussion, that is, expressing our points of view and giving proposals, was very important and useful for the entire process of the internal dialogue, and I have to add, for me as well, because I see things with much more clarity now and understand the problems of civil sector which were brought up here today", Stepanović said, adding that he noted the great need for making sustainable job positions in the field of economy for young people in Kosovo and Metohija.
Mayor of Mitrovica North and president of the Serbian List, Goran Rakić and Vice-president of provincial Government, Dalibor Jevtić also took part in the round table discussion, among many other participants.
Rakić noted that civil sector is a necessary factor in the society and that it can be of use when it comes to political engagement aimed at protection and realization of rights of Serbian people in Kosovo and Metohija.
Jevtić pointed out the significance of giving the joint contribution in shaping sustainable peace and social climate in which problems of citizens are going to be addressed in more efficient and better way.