Rakić: The Serbian List Leaves the Government, establishes CSM on April 20
March 27, 2018. Source: TANJUG
The Serbian List leaves the Provincial Government, and 10 Serbian-majority Municipalities in Kosovo and Metohija are going to establish the Community of Serbian Municipalities on April 20, as announced today by Goran Rakić, President of the Serbian List.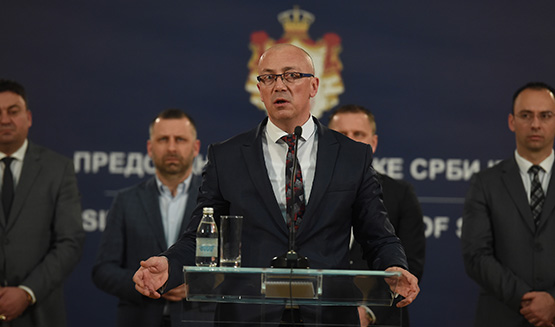 Photo: Office for Kosovo and Metohija
He shared this with the journalists after the consultations with Aleksandar Vučić, President of Serbia, whom, he added, they have informed about everything that was going on yesterday in Mitrovica and about the decisions they had taken.
"The Serbian List will leave the Government of the Provisional Institutions and the latter will no more have the support of the Serbian List", says Rakić.
According to Rakić, in Kosovska Mitrovica on the next day will be held a session of all 10 Municipalities with majority Serbian population.
He recalled that soon will be five years since the signing of the Brussels Agreement and Priština failed to honor its obligation to establish the CSM and, therefore, the Serbian Municipalities in Kosovo and Metohija will undertake to do so.
He added that President Vučić agreed with their positions and told them once again that Serbia would not allow any new "Flash" or "Storm" scenario.
Rakić went on to explain that there will not be any differences between the Serbs from the north and those from the south of the Province.
He called on the Serbs not to take part in any Kosovo Army.