Selaković: Terrorizing unarmed people
March 26, 2018. Source: TANJUG
The detention of Marko Đurić is an outage, and constitutes "terrorizing of unarmed people", said Nikola Selaković, Secretary-General of the Presidency of Serbia.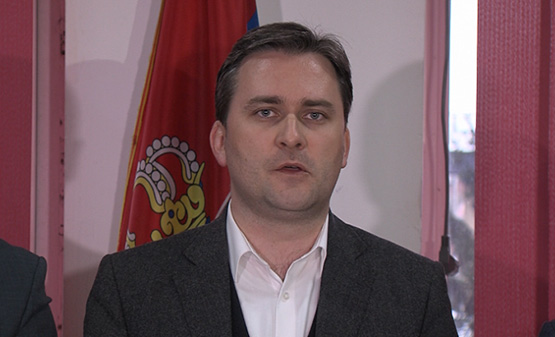 Photo: Office for Kosovo and Metohija
Selaković told the reporters that Đurić' hands were tied even though he did not make any attempt of resistance to provoke such treatment.
Immediately after the incident in the Mitrovački Dvor which was the venue of roundtable on the dialogue concerning Kosovo and Metohija, Selaković told journalists that Đurić' actions in Kosovska Mitrovica on that day have not jeopardized anyone's freedom.
Answering a journalist question whether the Serbian leadership is taking any measure aimed at the release of Đurić, Selaković replied that Serbia's leadership is both serious and wise, and that President Aleksandar Vučić is driven primarily by reason, and that he knows what he is doing.
When asked whether an attempt of his arrest was made, Selaković said that he had stood next to Đurić and that the special forces had recognized him but never tried to bring him in, as well.
"But this is not ruled out; they may come and arrest all of us. I am staying in Kosovska Mitrovica and waiting for the release of Marko Đurić", said Selaković.
He added that, on this day, the authorities in Priština demonstrated that "Albanian separatist responsible for the ongoing situation in Kosovo and Metohija does not want, will not, and refuse to implement the provisions of the Brussels Agreement on the establishment of the CSM".
"They will do just anything to avoid fulfilling of their commitments, whereas Serbia has displayed the readiness to honor own commitments", said Selaković.
When invited to comment on the KFOR members standing aside and taking photos of the onslaught of ROSU forces against the Serbs gathered at the Mitrovački Dvor, Selaković responded it was the sight resembling the scenes on the streets of Priština in July 1999.
"What possibly could a Serbian returnee in Klina hope for, with this happening today in the north of Kosovo and Metohija? We were having a regular dialogue, and the other party sent bombs, teargas, and firearms" said Selaković.
Asked whether he had permission to enter Kosovo and Metohija, he replied he came to the territory of his own country and among his own people.
Selaković assessed as outrageous and terrorizing the scene of the Kosovo Police special forces cursing and pushing journalists even where the latter clearly displayed their press IDs and presented themselves as the media workers, in English.
He added that among the persons seriously injured in today's events were Nenad Rikalo, Minister of agriculture, forestry and rural development of the Provincial Cabinet, Željko Jović, Deputy Director of the Office for Kosovo and Metohija. Zoran Todić, Mayor of Leposavić, Ivan Milojević, Director of the Community Affairs Office, and Nebojša Milanović, principle of a school in Kosovo and Metohija.