Brnabić: Presence of self-proclaimed Kosovo as a state in Sofia a political nonsense
02 April 2018 Source: Tanjug
Prime Minister Ana Brnabić said today that it is a political nonsense for the self-proclaimed Kosovo to be present at the EU Western Balkans summit in Sofia, and that Belgrade will decide about participating depending on Pristina's actions towards establishing the Community of Serb Municipalities.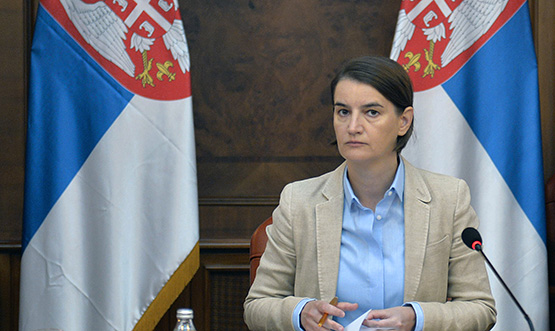 Photo: Office for Kosovo and Metohija
The European Union is our strategic goal, we want good communication, and it is in the interest of our state is to attend this summit, "Branbic said.
According to her, self-proclaimed Kosovo cannot be present at that summit as a state, because it is not theoretically possible.
"The reason is that the European Commission is status neutral, and Kosovo is not a state but a province within the Republic of Serbia, which is also the position held by five strong and important EU member states," she stressed.
The Prime Minister stressed that regional stability is very important for Serbia and that our greatest interest is to maintain this stability throughout the region, in order to avoid any destabilization that could jeopardize the results achieved in the difficult reforms that we carried out over the previous period.
Brnabić: I will support Serbs in establishing CSM
Prime Minister Ana Brnabić said today that she would support the Serbs in Kosovo and Metohija to form the Community of Serbian Municipalities in April, should Pristina refuse to create the Community in the manner agreed by the Brussels Agreement.
"If Pristina does not want to honor its obligations by its own self, then of course - I will give my full support to the Serbs in Kosovo and Metohija to establish the CSM, which will take place in April," Brnabic told reporters.
When asked about the measures Serbia intends to take in terms of Kosovo and Metohija, the Prime Minister says that some of these things are confidential and still at the development stage.
"It would be irresponsible to come out with that. Serbia will strive to preserve peace and stability. The basic thing is that it is becoming increasingly more difficult to preserve peace and stability because of Pristina and their partners. Also, it seems to me that they are not exerting enough pressure on Pristina to comply with the arrangements and agreements they undersigned. Belgrade will insist more strongly than ever on the full implementation of the Brussels Agreement and the formation of the CSM – only not as Pristina intends to go about it, but in the manner that has been agreed and undersigned. "
Brnabić emphasizes that this cannot be changed without the consent of both parties.