President of Serbia welcomed children from Kosovo Pomoravlje
April 14, 2018 Source: Tanjug
Serbian President Aleksandar Vučić today welcomed 50 children from Kosovo Pomoravlje, who are visiting Belgrade.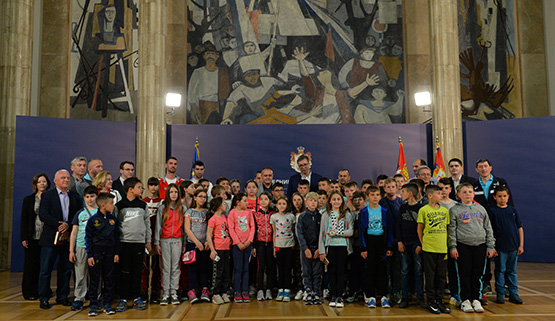 Photo: Tanjug
In the building of the Presidency, Vučić welcomed children from Kosovska Kamenica, Kosovska Vitina and Gjilan, assuring them that the building of the Presidency was theirs as well.
"I want you to learn about the history of this building and the history of our country. I am aware of the difficult conditions you live in and wish to urge you, your teachers and parents to persist in your hearths and not hide love for your homeland", the President said.
Nikola Selaković, Secretary General of the Presidency, showed the children the most important rooms in the building.
He paid particular attention to the copies of frescoes from monasteries in Kosovo and Metohija, as well as other valuable exhibits, pointing out that the building is a kind of museum and a place where important historical decisions have been made for the past over one hundred years.
Selaković stated that every encounter with Serbs from the southern province, and especially with children, is a moving one, for everyone working in the building of the Presidency, but also for every normal person in Serbia.
"These children are the motivation for our struggle for Kosovo and Metohija. They are no less valuable than the children in Subotica, Sombor, Valjevo or Kragujevac. The little ones are the main reason why we fight for peace and stability ", Selakovic emphasized.
Selaković pointed out that the task of the state is to motivate children from in Kosovo and Metohija to visit Belgrade, as well as to provide them with the conditions to remain in Kosovo and Metohija, become good students, workers and citizens, and establish their families in their home towns.
Fifty children, age nine to thirteen, are spending some time in the capital, and some of them are for the first time in Belgrade.
After their meeting with the Serbian President, the children from the Kosovsko Pomoravlje visited the Beo Zoo and the St. Sava Temple in Vračar.
Assistant Director in the Office for Kosovo and Metohija, Petar Petković, told reporters that it was a great joy to create an interesting multi-day program for them.
"They come to the City of Belgrade, the only capital city there is for both our children in Kosovo and Metohija, and for all the other children from Central Serbia. There is no better link between the Serbian people in Kosovo and the Serbian people in Central Serbia than the institutional link, and these children are the proof that the state of Serbia is very much institutionalized in Kosovo and Metohija," Petković stated.
The visit of children from the Kosovo Pomoravlje to Belgrade has been organized by the Office for Kosovo and Metohija.