Vučić: Our gratitude to UNSG Guterres, I expect Russia's support in the UN Security Council
May 4, 2018 Source: Tanjug
Serbian President Aleksandar Vučić said today that the British, Americans, French and all others who have recognized the so-called independence of UDI Kosovo have been working for a long time to evade any discussion about Kosovo and Metohija at the UN Security Council, but highlighted the statement made by UN Secretary-General Antonio Guterres condemning the behavior of the Kosovo Police against Marko Đurić.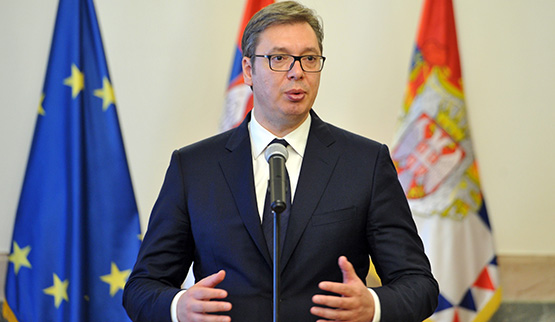 Photo: Tanjug
Responding to press questions about the announcement made by Britain, that when the UK assumes the presidency of the UN Security Council, they would seek closed sessions on Kosovo and Metohija or that no sessions be held in the present format, Vučić said that some countries believe that their work is over and done.
President Vučić said that he expects open support from Russia in this regard.
He recalled that Russia already helped twice in the past. Back then he talked with the late Vitaliy Churkin, who presented our views as his own when explaining why it is impossible to remove the Kosovo issue from the Security Council.
"Once again, I expect Russia's open support, and we will also talk with our Chinese friends. We are doing our best to put up a fight," he explained.
According to him, Guterres proved that he deserved to be at the helm of the UN by his unbiased and responsible actions. President underlined that the news of Guterres's statement was important because the UNSG condemned the conduct of the Kosovo police, and by so doing has contributed to the resolution of the situation in Kosovska Mitrovica.
Our position is not easy, but we will continue to put up a fight, said Vučić.
"The upcoming period of several months will certainly be decisive and difficult for our country and people," Vučić warned.
The President stated that he expected massive pressures, but pointed out that we will try to reach a compromise. However, he added that, "many in the world view compromise as complying with their will and decision."
"We need to avoid making rush decisions," the President stated, adding that close attention would be paid as to what is being offered to the Serbian people, that we will look at it and then make decisions important for the future of our people. We will certainly do this autonomously, he pointed out, as we have so far.
"Whatever you chose to do, you will have something to regret," said the President of Serbia.
He recalled that we have always celebrated people who waged successful or unsuccessful wars, and we never had any understanding for those who preserved peace and looked after our children.
"Every leader who has been elected by our people has the right to his own choice and to where and how he thinks he is leading his country and how he sees the future of his country," Vučić said.