Vučić: Dialogue continues, meeting with Thaci on Sunday
June 19, 2018
Serbian President Aleksandar Vučić confirmed today that he received an invitation for a continuation of the dialogue with Pristina and that he will be meeting with Hashim Thaci on Sunday, June 24.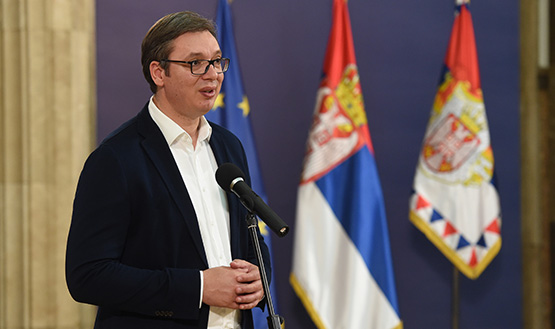 Photo: Office for Kosovo and Metohija
"I received an official invitation, so the Serbian delegation will definitely go and be present in Brussels as of Friday, attending a meeting not so attractive to the media, and on Sunday, I will probably meet with Thaci," Vučić told the press.
He specified that Serbia has set no preconditions:
"Serbia has never set any conditions for holding the Dialogue. We have always been ready for the dialogue, which will resume on Friday. We will see whether it will be extended beyond Sunday because there is an inter-governmental conference on Monday", he added.
"I am neither optimistic nor pessimistic, it is our job to protect the interests of our people, we are ready to talk", he concluded.
RTS has previously specified that a round of technical dialogue will be held prior to the meeting of Thaci and Vučić.
To those who say that some other agreements that should be implemented, Vučić said that they must read the general agreement on energy, made in 2013, which never mentions any of their desires.
"This is a general agreement, and it is yet another one which requires prior setting up of the Community of Serb Municipalities. I urge the Albanian politicians from Kosovo to read what they themselves signed and initialed, and not speak nonsense", President Vučić said.
In the meantime EEAS confirmed the meeting of the two presidents with Federica Mogherini:
"The High Representative and the Presidents will continue their work on the comprehensive normalisation phase of the Dialogue, take stock of existing agreements, inform of achievements to date as well as discuss the next steps in view of an intensive period ahead."
The last meeting between Thaci and Vučić was held on March 23rd.