Vučić: We agreed to resolve all problems in peace
June 25, 2018
Serbian President Aleksandar Vučić told the national broadcaster RTS that he had frank talks on many issues with the provincial President Hashim Thaci in Brussels. It was agreed that all problems must be resolved in peace, respecting each other and guaranteeing safety and security of the citizens, Vučić said.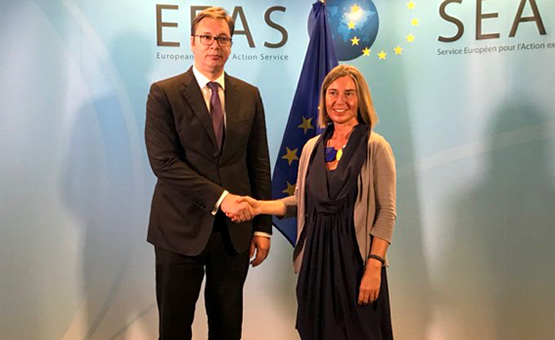 Photo: Tanjug
"We had open talks on many issues. I am not terribly optimistic, but at least we broached them. I do not want to go into details because that might endanger the position of Pristina and improve ours, or vice versa," Vučić said.
He added that the matters that are of great importance for the Serbs have been agreed, and both sides will comply with this – that all the problems we have must be resolved in peace, respecting each other and ensuring the security and safety of citizens.
This is a very important message for all citizens of Serbia, he said, because there is a question that we cannot answer, and that is why it is very important to us.
"What if somebody makes a move to take over the north of Kosovo during the summer? What would be our response? Would our answer be military or would we have another "Storm" or "Flash" on our hands," the President underlined.
Vučić said that it was agreed that the dialogue would intensify.
"The EU representatives would be coming to Belgrade, whether you see them or not, and we will be traveling to Brussels more often," the President said, adding that the EU representatives today had been "very fair and did their best to rationally orient the dialogue in the future".
"Addressing the nation to follow soon"
The President said that he would be addressing the nation in the coming days via national broadcaster, without questions and answers, just standing in front of the camera. He would do so only when he sees that there is a chance of arriving at some compromise or solution, adding that he will not be signing off on it.
"We will present it to the people, and they will decide whether they want it or not. No one should be afraid of autocracy or of making any decisions without ensuring support of the people", Vučić said.
Asked about when he intends to address the nation, Vučić responded that he was unable to say, and added that he would do so when he "forms a mental picture about what is possible and if at all."
And if it is not possible, I will address the people and tell them why we were not able to reach a compromise, Vučić said.
According to him, the compromise will certainly be significant for us, since today we have nothing.
"And we got this "nothing" in 1999, 2004, 2008, and then we confirmed it in 2010 and 2011. We are now fighting for something instead of nothing. If someone says that they can do better and more, then, honest to God, take it immediately. Just do not lecture to those who do something because you do not feel like doing anything", Vučić noted.
We have to find a solution that is both rational and corresponds to the citizens of Serbia, but which will also consider the other side, President said.
"So I will continue to work despite all the shills and phonies who never did anything, were only interested in disparaging criticisms, and cared very little for those who were struggling and were troubled. It is our job to preserve peace and to find the best possible solution and extract something from whatever is left to us. We did it today and will continue to do so in the future," President said.
"We need more responsible politics than in the nineties"
Serbia's politics, Vučić said, must be much more responsible than in the nineties and in the 2000s.
"We must keep the people in their homes, but at the same time we must not let the tragedy strike again," the President said.
"You have to hold difficult talks, you have been elected to do that, but then there are those who say that you have betrayed someone's interests. Only you do not know what you betrayed, because we already lost everything a long time ago, and now we are trying to come back to the game. There are others from the so-called civil section of our society that say that it is all "pitiful fronting" and that it accomplishes nothing. But it does. At least we have secured peace for our people, and no one is forced to flee. That is a great and important achievement," President said.
Asked about possible deadlines for reaching an agreement, Vučić says that it is not a question of deadlines but a question of global interests.
In order to come to some compromise, he says, all major powers must be involved, and this "provided we can find a compromise, and that the Serbian and Albanian people agree about this compromise."
"Nobody can do this without something painful for either one or the other people, but also something good. If we can do that, it will be a good result," Vučić said.
The President thanked those in Serbia who provide support to the people working hard to preserve Serbian lives in Kosovo, to protect Serbia and our national and state interests.