Đurić thanked Israel for their principled position regarding Kosovo and Metohija
July 03, 2018
Director of the Office for Kosovo and Metohija Marko Đurić met today with Juval Rothem, Director General of the Ministry of Foreign Affairs of the State of Israel, and thanked him for the country's principled refusal to recognize the unilaterally declared independence of Kosovo and Metohija.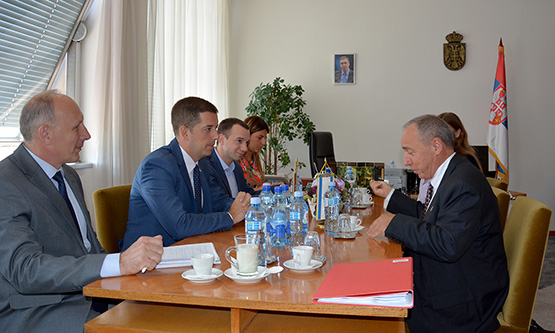 Photo: Tanjug
Đurić informed Israeli's senior official about the course of the Belgrade-Priština Dialogue and reaffirmed Belgrade's clear commitment to resolving all problems in the region by peaceful and political means.
Director of the Office for Kosovo and Metohija pointed out that Belgrade insists on consistent complying with the agreements reached in the EU-facilitated Dialogue with Pristina, first of all, those pertaining to the establishment of the Community of Serbian Municipalities, as a cornerstone of the Brussels' First Agreement.
Đurić expressed satisfaction with the fact that political and economic ties between Serbia and Israel have been on the rise over the recent years, as clearly visible in the increased number of investments coming from that country.
Recalling that the Kingdom of Serbia was the first state to endorse the Balfour Declaration a century ago, affirming the Jews their right to form a state, Đurić emphasized that Serbia and the Serbian people continue to regard the Jewish people and today's State of Israel with equal sympathies and understanding.
Đurić also recalled that the Serbian and Jewish people are deeply connected by the momentous suffering they underwent throughout their history, as well as their desire to develop and make progress in peace, within their sovereign and democratic states.
The Ambassador of Israel to the Republic of Serbia, HE Alon Fischer-Kam, also attended the meeting.